Preschoolers from the university attached kindergarten harvested rice in the Hiroshima University Ecological and Experimental Garden rice fields with the guidance of staff from the Technical Center and students from the School of Education.
The rice harvesting experience on November 4, combined with the rice planting, is part of the kindergarten's educational activities and is held every year by the older kindergarten students. The rice planted in June was ancient rice (black rice) and Japanese rice (Akiroman). Before harvesting, the children tasted the raw ancient rice and commented that it was delicious and that it tasted like soybeans. The children were very interested in peeling the shells, smelling the aroma, and nibbling the rice.
After a briefing by technical specialist Tsuneo Shioji on how to hold and handle the sickle and harvest rice, the children were divided into groups and took turns in the rice field. With the support of the students, the children proudly hoisted the rice they had harvested. They enjoyed getting their feet caught in the mud, catching insects, and showing various reactions to experiencing nature. They were also actively involved in carrying the harvested rice, going back and forth several times.
This rice field is 75 square meters and was an abandoned wasteland when the School of Science was relocated to Higashi-Hiroshima City. In 1992, faculty members of the School of Science and the staff of the Plant Management Office prepared this field intending to make effective use of the precious natural environment left on campus for education and research.
The university will continue the rice planting and harvesting events in the Ecological and Experimental Garden next year and beyond.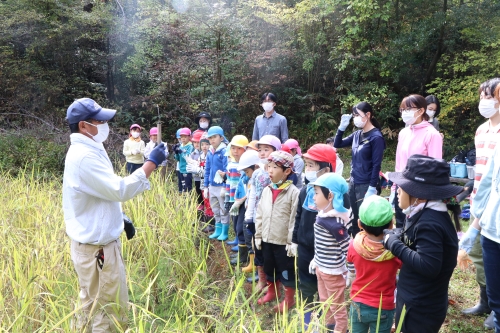 Children listening to an explanation by Mr. Shioji, a technical expert.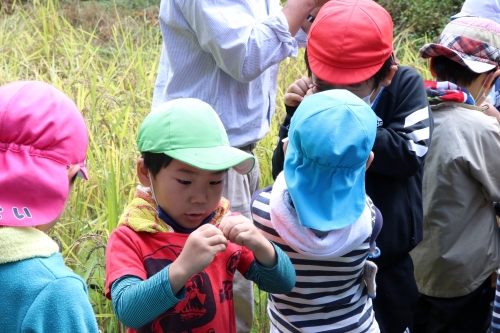 "Let's try eating raw rice!"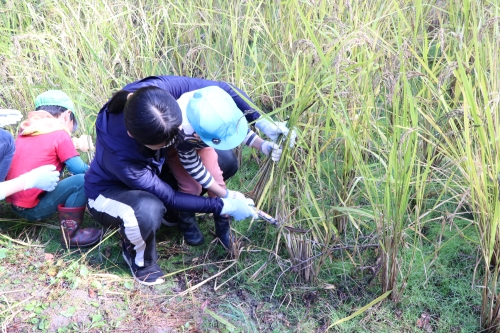 The children were using the sickle very well.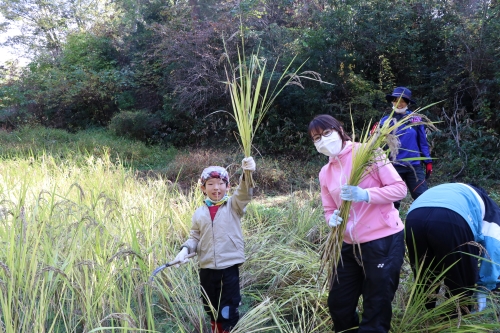 They showed us the harvested rice.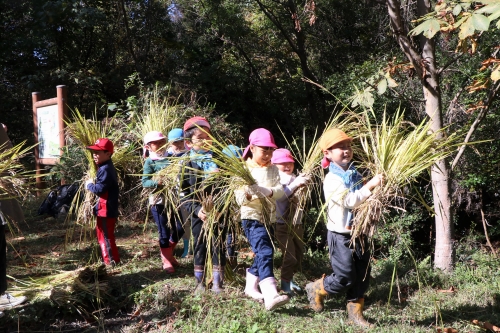 Everyone worked together to carry the rice.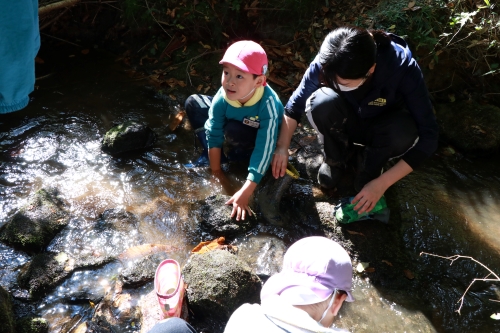 Washing their muddy boots in the river
[Inquiries]
Hiroshima University, Public Relations Group
E-mail: koho*office.hiroshima-u.ac.jp(Pleace change * into @)