Times Higher Education (THE), a British higher education magazine, has announced the shortlist for "THE Awards Asia 2021", and Hiroshima University (HU) was the only nominee in Japan to have been shortlisted for the category of "THE DataPoints Social Impact Award".
In "THE Impact Rankings"-an attempt to make the social contribution efforts of universities visible to the public by using the framework of the United Nations' SDGs (Sustainable Development Goals), HU's efforts were recognized because it submitted a large amount of publicly available data as evidence that demonstrated how it has been working towards elements of SDGs.
An online event was held on 14 December 2021 for "THE Awards Asia ceremony" where the winners from each category of "THE Awards Asia 2021" were announced. For the category of "THE DataPoints Social Impact Award", Indonesia's Institut Teknologi Sepuluh Nopember was the winner among the shortlisted nine universities in Asia (eight universities listed in the box below, plus Universiti Sains Malaysia).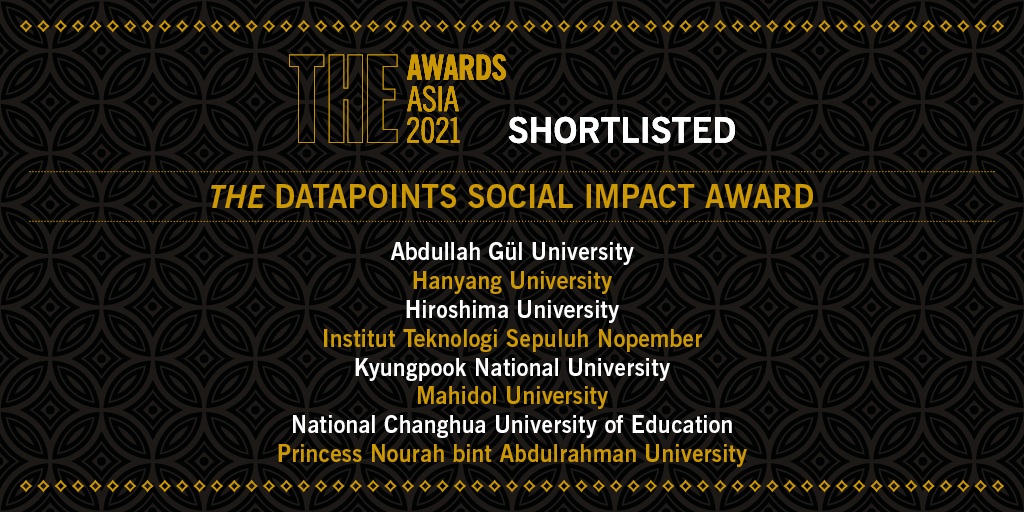 In the "THE Impact Rankings 2021", a total of 1,117 universities in the world including 75 universities from Japan, were included in the overall ranking. HU entered all 17 categories of SDGs, and among the universities in Japan it was ranked in the top 8 across all categories. Of these, it was ranked first for the five categories of SDGs, and was placed in the top three for 11 categories of SDGs. HU was the only university in Japan to be ranked in the top 10 across all categories. This shows that HU's university-wide efforts to achieve the SDGs have made a significant impact and been highly valued.
In January 2021, HU made a "Carbon Neutral x Smart Campus 5.0 Declaration" (to be realized by 2030) on the same day when it concluded a comprehensive collaboration agreement with Higashi-Hiroshima City and Sumitomo Corporation regarding the realization of Society 5.0 and a smart city in Higashi-Hiroshima City and its surrounding area. In addition, HU has published the "Hiroshima University SDGs Report 2021" to widely disseminate information on its implementations of SDGs, focusing on its major initiatives for 2020-2021.
While making further efforts towards achieving SDGs, HU will make continued contributions towards every aspect of education, research, and society.
About "THE Awards Asia"
This is an annual award ceremony where THE recognizes outstanding reform efforts by universities in Asia. This year's awards were held for the third time, starting in 2019. For the category of "THE DataPoints Social Impact Award", THE makes evaluation based on its own data.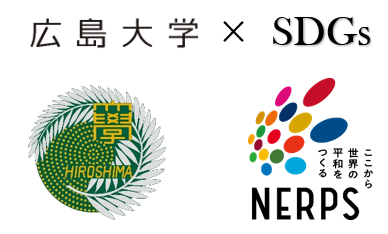 HU's Network for Education and Research on Peace and Sustainability (NERPS)
NERPS contributes to the promotion of SDGs and serves as a resource hub for SDG-related activities of Hiroshima University.
[Inquiries]
Hiroshima University, Office of University Strategy
Email: u-strategy*office.hiroshima-u.ac.jp (Please replace*with @)