※(2022.9.16 updated)
The typhoon No.14 is currently coming Japan, however,it is expected to pass through the Chugoku region on the day before the ceremony.
The autumn term commencement ceremony (Graduation Ceremony) will be held as scheduled.
please be careful to come to the venue.
The 2022 Autumn Term Commencement Ceremony (Graduation Ceremony) will be held as follows.
Date and time:
September 20th, 2022 (Tue.) from 13:00
Venue:
Hiroshima University Satake Memorial Hall (Higashi-Hiroshima campus)
(1-2-2 Kagamiyama, Higashi-Hiroshima)
Map of Higashi-Hiroshima campus
*Please park at the parking lot of the Higashi-Hiroshima campus if you are coming by car.
*The closest bus stop is "Hirodai-Kitaguchi."
(The bus stop "Hirodai-Chuoguchi" is under construction, buses will not stop there)
Attendees:
Only graduating students and their families
University representatives:
University Officers, Senior Executive Advisor to the President, Senior Vice President, Vice President (Student Support)
Event schedule:
Conferment of the Diploma and Academic Degree
The President's Speech
Playing Hiroshima University Song (CD)
To graduating students and their families:
Graduating students need to bring their student ID card for entering the venue.
Signboards/banners for commemorative photos will be placed outside the Satake Memorial Hall.
"Dōage" (traditional Japanese custom of lifting a given person into the air in the spirit of celebration) and other cerebration rituals involving close body contact to each person are all prohibited.
If you have a fever or any other cold symptoms, please refrain from coming to the campus.
Once arrived at the campus, you are kindly advised to take all the measures to prevent the potential spread of COVID-19 infection (e.g. wearing a mask).
(For doctor's degree graduates) Degrees will be conferred by HU's President at the same venue after the commencement ceremony.
To HU students:
On the day of the ceremony, we request you to kindly refrain from coming to the campus unless it is urgent/essential.
Photos from the 2021 Autumn Term Commencement Ceremony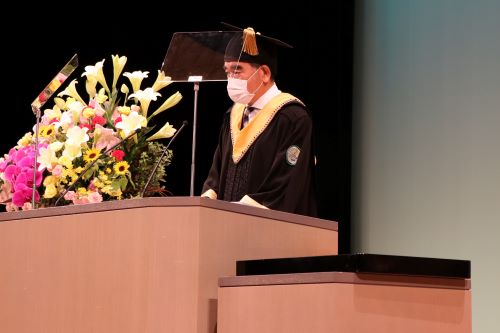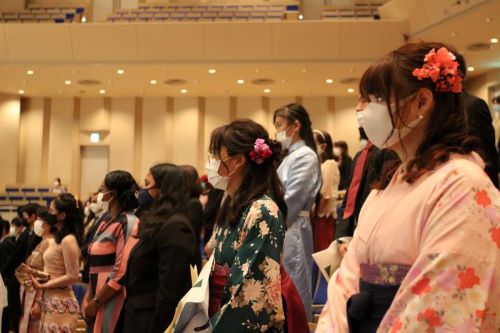 [Inquiries]
General Affairs Group, Hiroshima University
E-mail: soumu*office.hiroshima-u.ac.jp (Please replace * with @)