On December 17th 2022, the 17th Beijing Japanese Essay Speech Contest was held online in Beijing and Japan, with the theme of "The 50th Anniversary of the Normalization of Diplomatic Relations between China and Japan and I". There were applications from 179 students from universities across China, of which only 5 finalists were selected through the essay writing screening and presented their speeches.
This contest has been held by Hiroshima University's Beijing Research Center every year at Capital Normal University in Beijing (where the aforementioned center is located) since 2006 as part of our ongoing Japan-China exchange efforts. But this year (much like last year), the event was held online from the Headquarters of Fukuyama Transporting Co., the special sponsor of this contest (as the venue in Japan), with the contestants, special guests and other participants from China participating online from individual locations due to COVID-19.
The contest began with an opening speech by Professor Yoshichika Honda, Director of HU Beijing Research Center, followed by a recorded video-message from H.E. Mr. Hideo Tarumi, Ambassador Extraordinary and Plenipotentiary to the People's Republic of China. Additionally, greetings were given by Chief Director Shigehiro Komaru of The Shibuya Ikueikai Foundation (President and Representative Director of the Fukuyama Transporting Co.) who is the special sponsor of this contest.
Following the opening addresses, 5 students presented speeches in fluent Japanese, and after careful consideration, Ms. Lu Xinni from Sichuan International Studies University was awarded first prize.
After the speeches, Ms. Yang Jing, an acclaimed Chinese-Japanese interpreter, gave a special lecture entitled "My Way of Interpretation in the China-Japan Exchanges".
At the end of the contest, each judge commented on the speeches, and closing remarks were given by HU's Executive Vice President Toshiyuki Sato. The participants, approximately 100 people, both in-person and online, listened enthusiastically until the very end.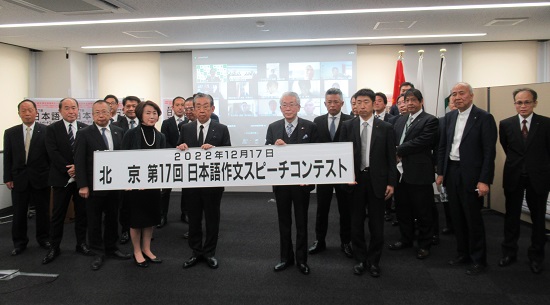 Group photo at the venue in Japan
Inquiries
Global Initiatives Group,
Hiroshima University