Hiroshima A-bomb survivor Koko Kondo's testimony is now available through TSS Archive Project with help from Hiroshima University scholars.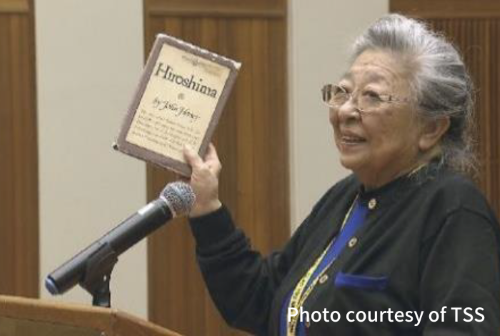 A-bomb survivor Koko Kondo
Starting February 28, 2023, the testimony of Koko Kondo, a survivor of the Hiroshima atomic bombing, will be made available to the world through the Hiroshima Peace Program TSS Archive Project.
The testimony — entirely in English — was translated in a joint effort by the Kawano Seminar at the Center for Peace, Hiroshima University, and Television Shin-Hiroshima System (TSS).
The translation was performed by Professor Noriyuki Kawano, the director of the Center for Peace, Vladisaya Bilyanova Vasileva, a research assistant at the center, and Rachel Nicholson, a professional translator and former international student at Hiroshima University.
The TSS Archive Project, by Hiroshima broadcasting station TSS, is a peace promotion initiative that seeks to increase local and global awareness of the bombing of Hiroshima, the first instance of atomic warfare in human history. The project includes special news and mini-programs covering topics related to the bombing and provides English subtitles for A-bomb testimonies to share the experiences of survivors. Additionally, the project serves as a valuable teaching resource for peace-related courses at Hiroshima University.
*The testimony was filmed on February 4, 2020.
[Inquiries]
The Center for Peace, Hiroshima University
E-mail: heiwa*hiroshima-u.ac.jp (Please replace * with @)