Hiroshima University Executive Vice President Junko Tanaka received the 9th Annual Achievement Award for Advancing Female Technologists by the Japan Association of Technology Executives (JAOTEX).
This award recognizes remarkable contributions to the development of female technologists, including researchers, as part of the Diversity Promotion Committee's initiative to enhance opportunities for women in the industry. Six individuals were awarded this year.
Tanaka has been acknowledged for her contributions as a role model for female researchers, her active role in nurturing female researchers as an educator, and her dedication to efforts as an administrator to increase the number of female researchers and create a conducive environment. Her achievements underscore her commitment to empowering and supporting the journey of female researchers.
The award ceremony took place on August 10 at Tokyo's Josui Hall, with a mix of in-person and online participation.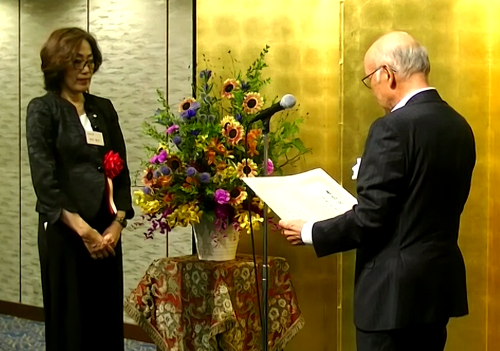 [Inquiries]
Hiroshima University Department of Personnel Affairs, Employee Welfare and Benefits Group
E-mail: fukumu-fukumu * office.hiroshima-u.ac.jp (Please replace * with @)