On August 3, 2023, Hiroshima University (HU) held the Hiroshima University 75+75th Anniversary Commemorative Project, 'Hiroshima and Egypt', in the Koujin Conference Hall of its Kasumi Campus. In total there were approximately 270 in-person and online participants from both within and outside of HU for the symposium entitled 'Hiroshima and Egypt: Two Oriental Worlds Weaving Memories and Creating a Peaceful Future'. The event was jointly hosted by the Grand Egyptian Museum (GEM), the Japan International Cooperation Agency (JICA), and HU.
Ahead of the symposium's opening, world-class opera singer Ms. Michie Nakamaru, Visiting Professor to HU, welcomed the participants by performing four songs including "O mio babbino caro" (G. Puccini). Afterwards, HU President Mitsuo Ochi gave his opening remarks, followed by a celebratory video message from Hiroshima City Mayor Kazumi Matsui.
After that, the audience listened with rapt attention as President Ochi and Professor Dr. Mamdouh Eldamaty of Ain Shams University (Egyptologist, Archaeologist, and Former Minister of Antiques), held a talk session on 'Tutankhamun and the Ancient Disease'. When the session concluded, they commemorated the symposium with a sheet of papyrus, upon which the word for 'peace' was written in both Japanese and Arabic. The venue became lively as the papyrus was rolled into a tube and presented like a baton to students in attendance.
Next, Professor Dr. Hany Helal (Faculty of Engineering at Cairo University, Coordinator of the Scan Pyramids Project, and Former Minister of Higher Education and Scientific Research) gave a speech entitled 'The Great Discovery of the 21st Century: The Scan Pyramids', followed by a speech from Major General Atef Moftah (General Supervisor of GEM Project and Surrounding Area) and Dr. Eissa Zidan (General Director of Executive Affairs for Conservation at GEM) entitled 'The Grand Egyptian Museum Now: Preserving the Treasures of the Pharaohs 2023'. The speakers introduced topics such as the latest research on pyramids, the current progress of GEM in regards to its official opening, and the fascinating treasures to behold at the museum.
Upon the conclusion of the symposium, an inter-university networking conference took place. President Ochi and current Ambassador of Japan to Egypt, Mr. Hiroshi Oka, opened the conference with their remarks. Afterwards, the university presidents and professors in attendance, including President Hany Helal of Senghor University, Prof. Dr. Mamdouh Eldamaty of Ain Shams University, President Mohamed El-Sayed El-Shinawi of Galala University, President Amr Adly of Egypt-Japan University of Science and Technology, as well as President Abdelaziz Hassanein Mohamed Saad Konsowa of Alexandria University, gave comments expressing their hopes for further exchange between Hiroshima and Egypt.
Subsequently, Executive Vice President in charge of Global Initiatives at HU, Shinji Kaneko, gave an introduction about the connection between HU and Egypt. Then, Ms. Naoko Fukami, Director of HR at the Japan Society for the Promotion of Science (JSPS) Cairo Research Station gave an overview of JSPS. Professor Dr. Suguru Ishiguro from the Japan Science and Technology Agency (JST) Sakura Science Program Promotion Division followed with an overview of the Sakura Science Program. A lively discussion on the academic exchange between Japan and Egypt took place following these overviews.
HU originally opened in Hiroshima after the city suffered an atomic bomb strike and has since established itself as a university for advanced studies. HU has built a close relationship with Egypt through its two overseas bases in the country and collaboration agreements with eight Egyptian universities and institutions. The symposium and inter-university networking conference are expected to enhance student and academic exchange and to promote the two countries' development and friendly relations, as well as peace and cultural understanding.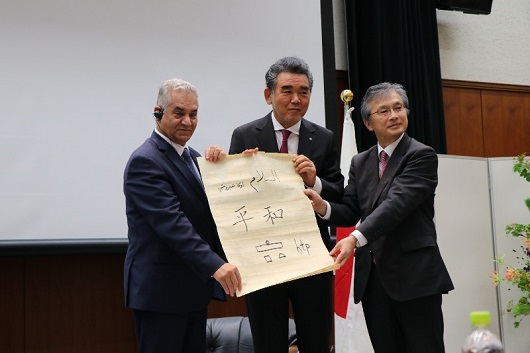 The papyrus with the word for 'peace' written in both Japanese and Arabic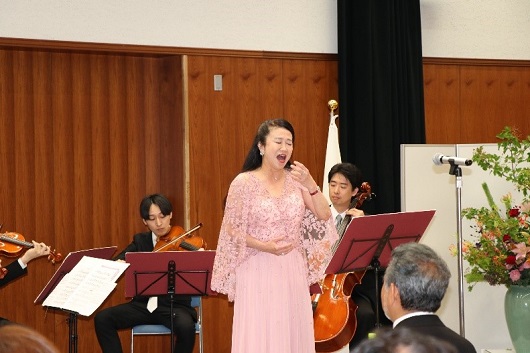 Ms. Michiè Nakamaru performing a song for the audience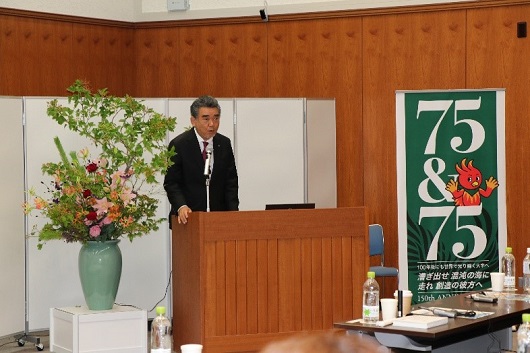 President Ochi's opening speech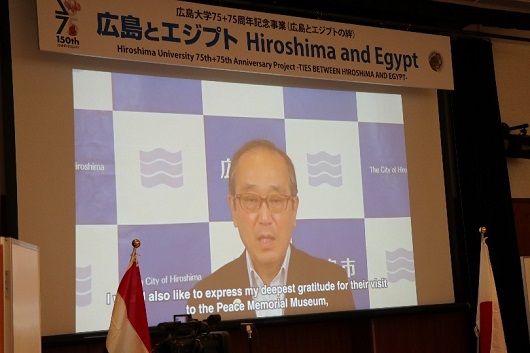 The video message from Hiroshima City Mayor Matsui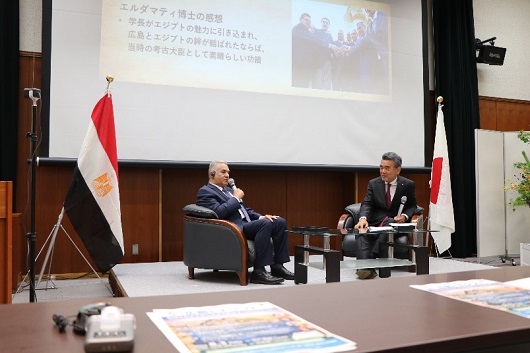 The talk session with President Ochi and Professor Dr. Eldamaty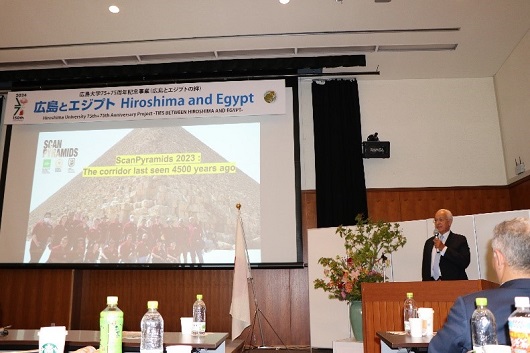 During the speech 'The Great Discovery of the 21st Century: The Scan Pyramids'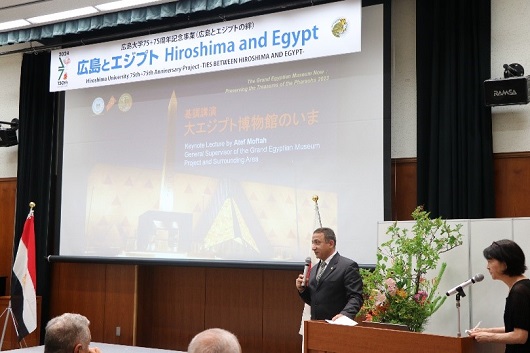 During the speech 'The Grand Egyptian Museum Now: Preserving the Treasures of the Pharaohs 2023'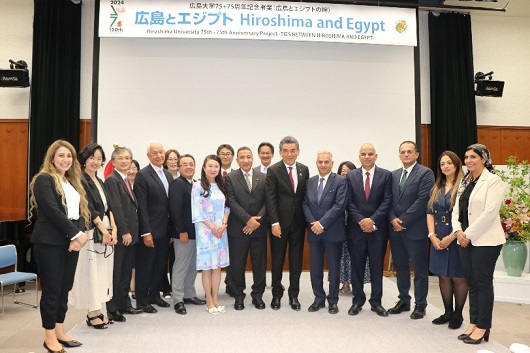 The post-symposium commemorative photo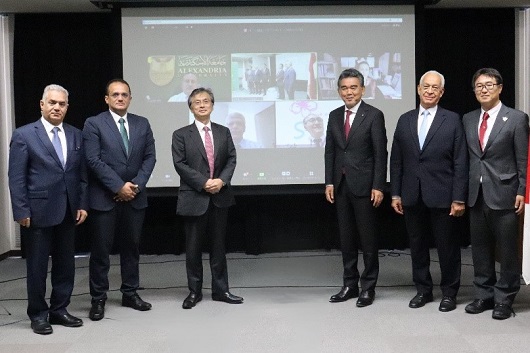 The post-inter-university conference commemorative photo
Inquiries
Global Initiatives Group, Hiroshima University
TEL: 082-424-6042
Email: kokusai-kyoten*office.hiroshima-u.ac.jp
(Please replace * with @.)