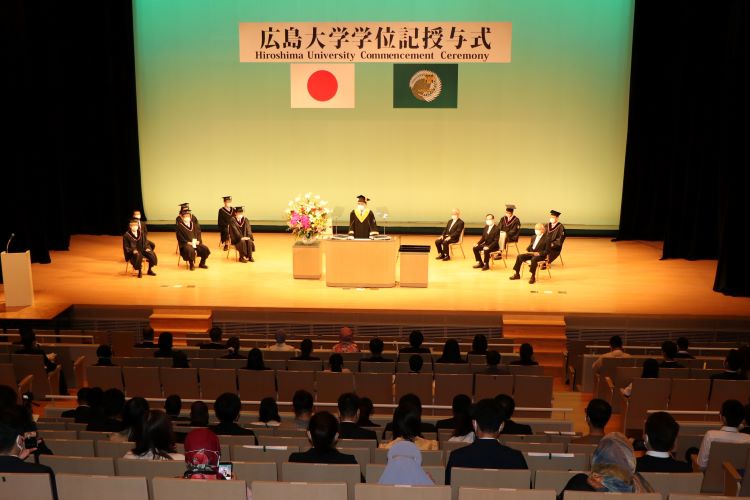 Hiroshima University held its 2021 Autumn Term Commencement Ceremony at the Satake Memorial Hall, Higashi-Hiroshima campus, on Friday, September 17, 2021.
To halt the spread of COVID-19, only graduating students participated in the ceremony under a strict mask-wearing protocol. On behalf of the 345 new graduates (21 undergraduate and 324 graduate students) — of which 249 were international students — three student representatives received their diplomas from HU President Mitsuo Ochi.
In his ceremonial address, President Ochi expressed his respect and applause to all graduates despite the challenges of the COVID-19 pandemic.
"I would like you to remember that this achievement would not have been possible without the understanding and support of your families, friends, seniors, and juniors," said President Ochi.
President Ochi also referred to HU's mission to cultivate peace-pursuing, cultured individuals with an international mindset and a challenging spirit and shared his hopes for the new graduating class.
"Today marks the first step towards your future life, and I sincerely hope that you will ask yourself what you can do for peace and play an active role on the global stage."
Following the address of Ryota Maruyama — the remaining students' representative — from the Graduate School of Biomedical and Health Sciences, Sun Kunyang — the new graduates' representative — from the Graduate School of Integrated Arts and Sciences offered a speech congratulating all fellow graduates and sharing his life experience as an international student at HU.
"Two years ago, I came from China to deepen my research in phonetics at Hiroshima University's graduate school. I am very grateful to the professors who arduously worked to provide us with the best learning environment despite COVID. We will continue to study independently and strive to follow our paths to contribute to the rapidly changing society," said Sun.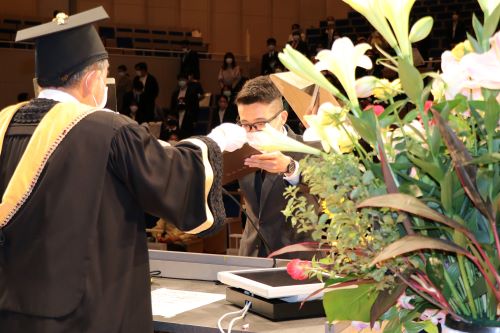 One of the student representatives receiving his diploma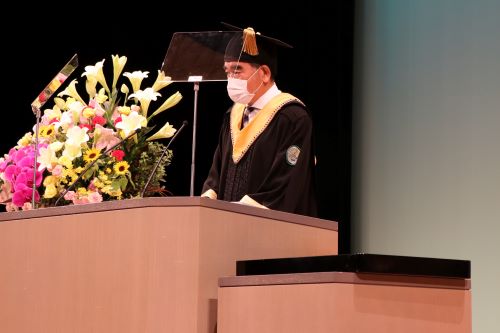 President's Ceremonial Speech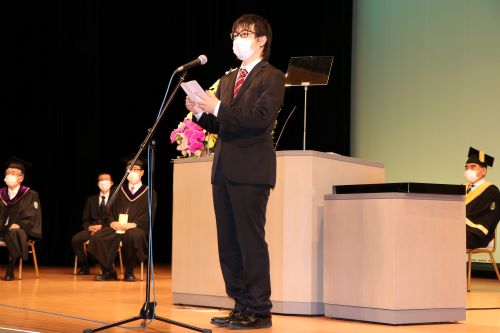 The representative of the remaining students reading a valedictory message to the new graduates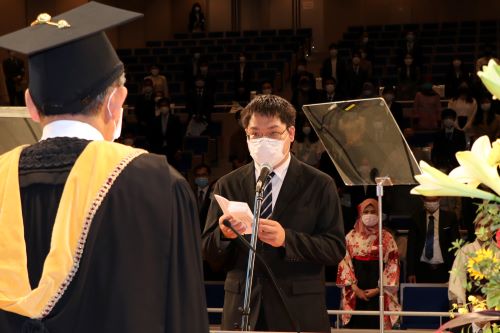 The representative of the new graduates delivering an address of thanks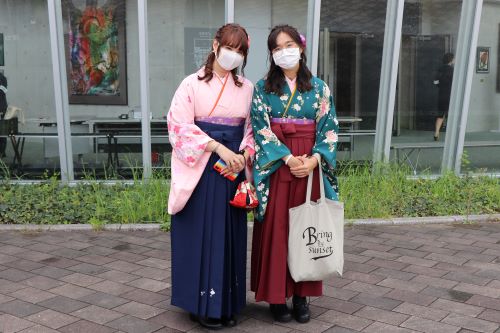 Commemorative photographs in front of the venue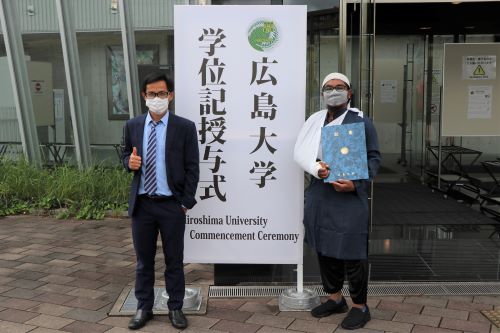 Commemorative photographs in front of the venue
※Photos of the Commencement Ceremony will be released on HU's website and official social media.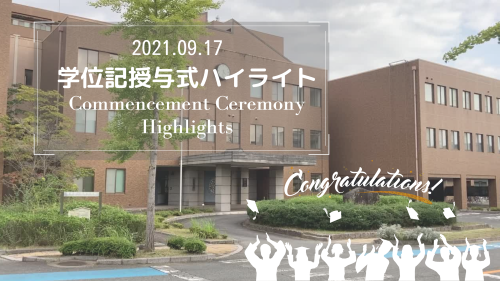 Commencement Ceremony Highlights
[Inquiries]
Hiroshima University, Public Relations Group
E-mail: koho*office.hiroshima-u.ac.jp (Please replace * with @)