Hiroshima University has concluded an agreement with Vietnam National University Ho Chi Minh City on Saturday, February 6.
Vietnam National University Ho Chi Minh City is one of National Universities that there are two in Vietnam. It's also university which is representative of Vietnam like Hanoi, and evaluated level of education and research highly. Vietnam National University Ho Chi Minh City is constituted by University of Technology, University of Natural Sciences, University of Social Sciences and Humanities, International University, University of Information Technology, Institute for Environment and Resources, Faculty of Economics, Foreign Language Center, Center for International Education, Center for Educational Testing and Quality Assessment and Center of French Universities as affiliated universities. They have 45,000 students, 2,000 academic faculties and 1,400 non-academic staffs.
The signing ceremony of agreement was held at Windsor Plaza Hotel in Ho Chi Minh City, Vietnam. President Toshimasa Asahara and Vice Executive Toshiyuki Sato, total 6 people attended the ceremony, also Consul Furudate in Ho Chi Minh City attended.
After the signing ceremony, Vice president of Vietnam National University, Lu Quang Minh and President Asahara had presentations to introduce each university, and then they made sure about specific exchange project for the future.
In addition, we have exchanged an agreement to establish the Hiroshima University Vietnam Center in the Vietnam National University as an overseas base of Hiroshima University. This center will be used for promotional activities to acquire students and information providing service.
We are searching for many possibilities such as international cooperative study between both universities to aim to develop academic exchange program with Vietnam in the future.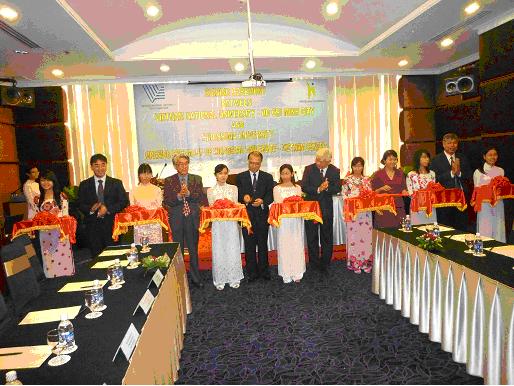 Signing ceremony of agreement Hiroshima University Vietnam Center opening ribbon-cutting scene (with students who wear traditional clothes called ao dai)
【Inquiry】 Hiroshima University International Planning and Cooperation Group

TEL: 082-424-6045

E-mail: kokusai-group AT office.hiroshima-u.ac.jp

(Please replace AT with @)