On October 17th, Dr. Jing-Yang Jou, President of Taiwan's National Central University visited the Higashi-Hiroshima Campus, and also had a meeting with President Mitsuo Ochi.
During the meeting, they had an exchange of opinions about the development of student/researcher exchanges and collaborative research between National Central University and Hiroshima University, whilst proposing a letter of intent for the Joint Degree Programs in the near future.
Hiroshima University has entered into a university agreement with National Central University since 2009, opened the Hiroshima University Taiwan Research Center on a premise of National Central University since 2013, and intently continued student and teacher exchanges throughout these years.
Even in the future, we look forward to the development of educational exchanges between National Central University and our university.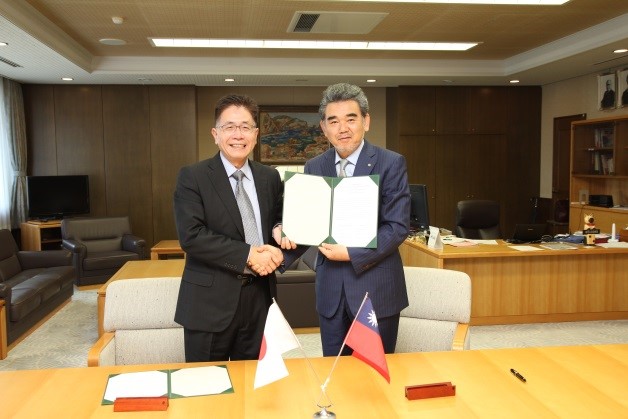 President Jing-Yang Jou (Left) and President Ochi taking a picture with the letter of intent in their hands.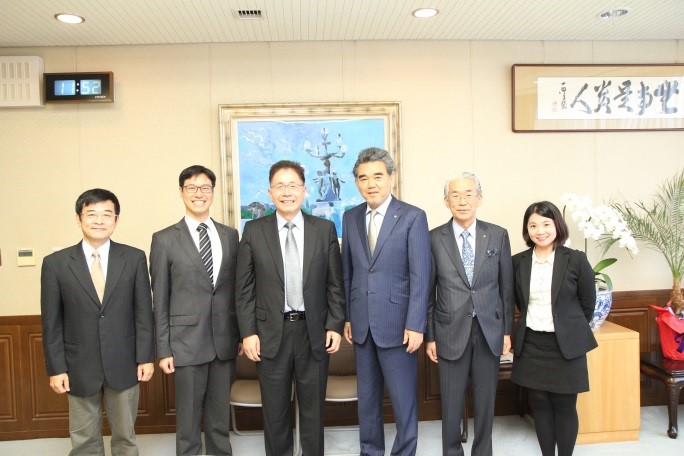 A group photograph (From left, Dr. Willis T. Lin, Dean, College of Science, Dr. Albert T. Wu, Associate Vice President for International Affairs, President Jing-Yang Jou, President Ochi, Executive and Vice President Toshiyuki Sato, Ms. Kelly Chien, Director, Office of International Affairs)
Inquiries:
International Exchange Group, International Office, Hiroshima University
TEL: 082-424-6045
E-mail: kokusai-group*office.hiroshima-u.ac.jp (Please replace * with @)