Hiroshima University Guanajuato Center, the 13th overseas research base of the university, was launched in the premise of University of Guanajuato on March 1st, 2017.
President Ochi and Dr. Sato, Executive and Vice President (International/Peace/Fund), visited the University of Guanajuato to put up the center's signboard along with Rector General Luis Felipe Guerrero of University of Guanajuato.
Guanajuato State and Hiroshima Prefecture have concluded a friendship alliance, which led Mazda, a major auto manufacturer, and its supplier companies to expand their businesses in the State. Moreover, as Hiroshima University and University of Guanajuato have concluded a faculty-level agreement (Institute of Engineering) followed by an inter-university international cooperation agreement, Guanajuato is a suitable place for Hiroshima to develop international industry-academia-government collaborations.
As the activity hub for the industry-academic-government collaborations in Latin America, we will utilize the center to strengthen our international collaboration with local companies and with the University of Guanajuato and other universities in Mexico, and to recruit international students from Latin America.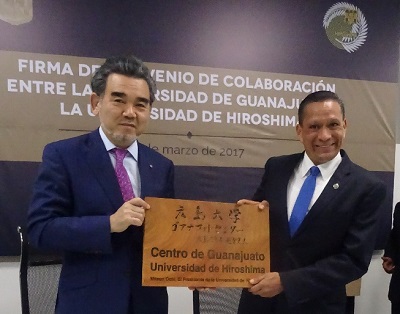 President Ochi (left) and Rector Luis Felipe Guerrero (right) holding the center's signboard
Inquiries:
Center for Collaborative Research and Community Cooperation,
Hiroshima University
TEL: 082-424-4313
E-mail: sangaku-renkei*office.hiroshima-u.ac.jp (Please replace * with @ when sending emails)