The objective of this agreement is to establish a basis for Satven and Hiroshima University in cooperation through collaborative research & development, personnel development and transfer of such achievement widely to the society. The proposed area of collaboration includes collaborative researches in the field of enterprise management, new service development, overseas activity promotion and in the technical field such as information technology, model based development and emerging technologies in automotive industry, as well as global personnel development, internship and personnel exchange.
At the Signing Ceremony on June 21, Prof. Takashi Takata, Executive Vice President, (Industry-Academia-Government and Community Collaboration) of Hiroshima University and Mr. P. V. Krishnakumar, Vice President of Satven signed the Comprehensive Partnership Agreement. Mr. T. Armstrong Changsan, Consul General, Consulate General of India, Osaka-Kobe, attended the ceremony and delivered a congratulatory address.
Hiroshima University was selected by MEXT government for "A Program for Enhancing Research Universities" in 2013 and "The 13 Type A (Top Type) universities under the FY2014 Top Global University Project" to be ranked as one of the top 100 universities in the world by offering world-class educational and research activities in the following year. Through these initiatives, we dispatch globally competent human resources from Hiroshima to the world, as well as attracting talent from around the world to Hiroshima. We also renewed our long-term vision for the next 10 years in April which was named "SPLENDOR PLAN 2017" with a view to realizing the "University of World-wide Repute and Splendor for Years into the Future". Touching on these initiatives, Prof. Takata expressed his expectation that this agreement is the first agreement for Hiroshima University with a foreign company among more than 70 agreements and should lead to enhancement of the university's international industry-academia collaboration. Mr. Krishnakumar expressed his wish to strengthen Satven's research and development in auto industry and personnel development through their collaboration with Hiroshima University. It is expected that this agreement could be a trigger for acceleration of the industry-academia-government collaboration between India and Japan.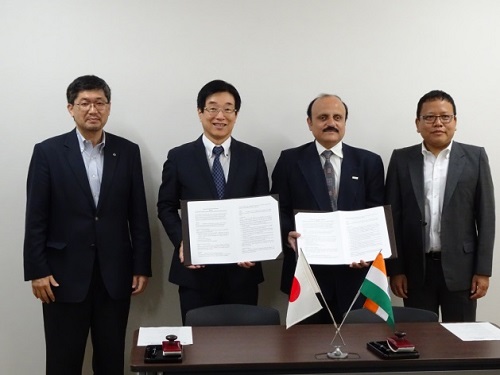 Prof. N. Hirami, Global Innovation Manager, Prof. T. Takata, Exe. Vice President, Mr. P.V. Krishnakumar, Vice President, Mr. T.A. Changsan, Consul General, from left to right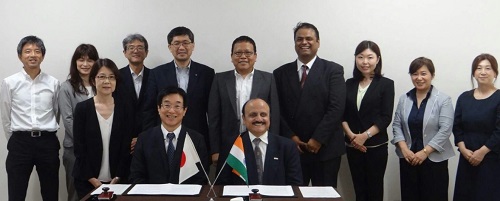 With all the participants
Inquiries:
Hiroko Nakano
Center for Collaborative Research and Community Cooperation, Hiroshima University
TEL: 082-424-5672
FAX: 082-424-6189
E-mail: nakanoh*hiroshima-u.ac.jp (Please replace * with @ when sending emails)