On July 15 and 16, 2017, Hiroshima University attended the 3rd South Africa-Japan University (SAJU) Forum held at the Tokyo International Exchange Center, Plaza Heisei (Koto-ku, Tokyo). From HU, Vice Executive Prof. Taiji Hotta, and Prof. Kazuhiro Yoshida, Director of the Center for the Study of International Cooperation in Education (CICE) participated in the event.
This time, under the main theme titled "Cooperation between South African and Japanese universities toward achievement of SDGs", the participants discussed what kinds of contribution the universities in both countries can make by collaborating with each other to solve various global-scale and regional issues and to realize SDGs (Sustainable Development Goals).
In 2004 CICE established a network called "Africa-Asia University Dialogue for Educational Development" (A-A Dialogue Network) and through joint international researches between the African and Asian universities has been contributing to the educational advancement of developing nations. During this forum, they made a presentation on their achievements through the A-A Dialogue Network in the sectional meeting on "Education, Humanity and Society".
Hiroshima University has participated in this forum since its inauguration. It is hoped that academic exchange between universities in South Africa and HU will continue to develop.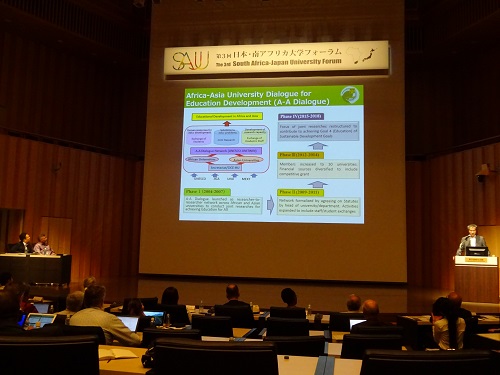 HU making a presentation at a sectional meeting
(Chair of the sectional meeting: Vice Executive Prof. Hotta (left), Presenter: CICE Center Director Prof. Yoshida (right))
[Inquiries]
International Exchange Group, Hiroshima University