On July 21, 2017, Mr. Francisco Ricardo Sheffield Padilla, a Mexican Member of Congress and the President of the Mexico-Japan Parliamentary Friendship League visited the Hiroshima University's Kasumi Campus and had a meeting with HU President Mitsuo Ochi.
During the meeting, there was an explanation by President Ochi about the upcoming Joint Meeting of University Presidents from Japan and Mexico. Hosted by HU and scheduled on November 30 and December 1 this year, Mr. Sheffield expressed his high expectations of the event. Also, they exchanged ideas on topics such as the promotion of industry-academia-government collaboration, and the importance of learning the respective languages and cultures of Japan and Mexico.
After the meeting, Mr. Sheffield visited the on-campus Center of KANSEI Innovation where he asked many questions with enthusiasm.
It is hoped that academic and cultural exchanges between Mexican universities and HU will continue to develop.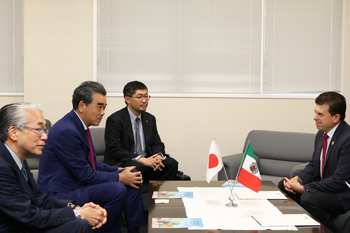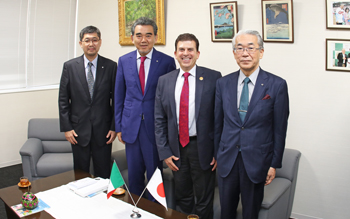 Commemorative photo (left-center: President Ochi, right-center: Mr. Sheffield)
[Inquiries]
International Exchange Group, Hiroshima University