On July 29th at the Higashi Hiroshima campus, Hiroshima University hosted a student seminar for the "FY2013 Re-Inventing Japan Project ASEAN International Mobility for Students Program (AIMS Program)" and research presentations of "Study on International Issues and Challenges" class. A total of around 60 students (international and Japanese) participated in the seminar.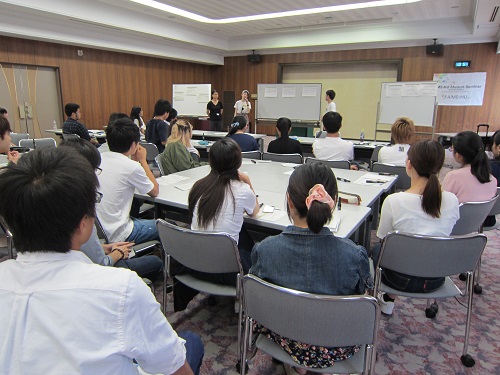 The AIMS-HU program Student Seminar

At the seminar in the morning, a total of over 40 students had a discussion in English on the theme of "How to Internationalize Our Universities".
Through the discussion, the participants were able to have an opportunity to (1)express their own ideas, (2)have multiple group debates, and (3)go through a process of reaching to a mutually agreed conclusion with the entire group. This time, both inbound and outbound students in another exchange program, and other HU students also participated in the seminar.
After the student seminar held in the morning, the participants had a party with the program's international students at lunch time and further deepened interaction through spending time together in an amiable atmosphere.
At the research presentation session of "Study on International Issues and Challenges class" held in the afternoon, each of the 12 international students made a 15-minute presentation including questions and answers. Each student selected a research theme related to their major field, conducted a research under their supervisor's guidance, and prepared for the presentation. The students looked nervous in front of their supervisors and classmates, but they all delivered their result presentation well.
Throughout the day, students had lively exchanges of views and interaction, and it became an opportunity to enhance their communication skills and deepen their international understandings. The participants made comments such as, "I enjoyed this seminar. I want to attend the seminar like this again if my English skill is improved." and "I thought it was really meaningful experience to speak English in front of audience!!"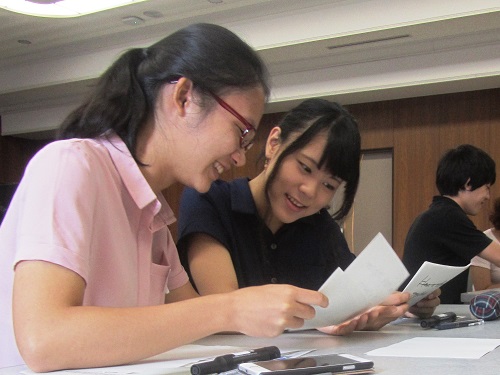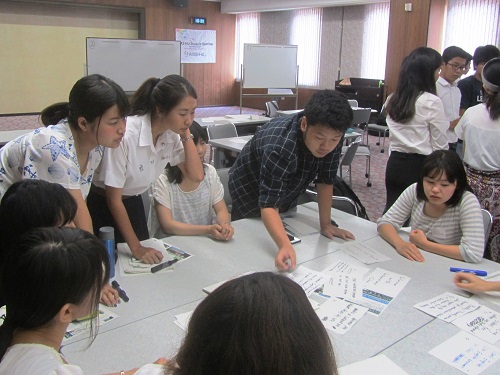 [Inquiries]
International Exchange Group, Hiroshima University
TEL: 082-424-4391
E-mail: kokusai-group*office.hiroshima-u.ac.jp (Please replace * with @)