On August 18, 2017, Hiroshima University (HU) co-hosted the "2nd Hiroshima-Ho Chi Minh City Triple Helix Collaboration Seminar" with a theme of "Resolution of Problems on Food and Agriculture" with Vietnam National University-Ho Chi Minh City (VNU), our partner university where we operate our Vietnam Center.
Following the opening remarks by Prof. N. Hirami, Global Innovation Division Head of HU Center for Collaborative Research and Community Cooperation, Prof. T. Yamamoto of the Graduate School of Engineering gave a lecture on "Design and Experimental Evaluation of Data-Driven PID Controller" and Asso. Prof. Tran Dang Xuan, Graduate School for International Development and Cooperation, presented the talk titled the "Gene Linkage Discovery reduces Dependence on Evolution and Impacts from Climate Change".
From industry, Mr. Y. Fukuhara, Director, Vietnam-Hanoi office of Kume Fertilizer, explained the "Effect of Wood Compost Utilization", then Mr. Nguyen Trong Hieu, General Director of Satake Engineering Vietnam presented "Hygiene and Safety in Rice Processing".
Furthermore, Dr. Lu Nguyen Xuan Vu, Chairman of local Xuan Nguyen Group (honey production) talked about "Practical Issues and Experiences in Agricultural Food Processing" and Tran Quoc Binh, President of local Viet Quoc Thinh Company (food processing) presented the "Viewpoint of Businessmen in Agricultural Products". Both of them raised an issue of delay in development of food manufacturing industry in Vietnam. Finally, Ms. Le Nguyen Thao Nguyen, Lecturer of the Department of International Relations at VNU gave a lecture on "Revisiting the Enduring Problem of Inequality in Food Security and Applying Republicanism on the Global Governance on Food Security" from the social science standpoint.
The seminar was interdisciplinary with a variety of lecturers where the participants listened intently and an active questions and answers session was held. There was also interviews from a major local television and agricultural magazine, and it seemed that the level of interest in the local media was also high. The seminar ended successfully and it was confirmed in the closing remarks of Prof. Huynh Trong Hien, VNU, to continue to have this triple helix seminar every year.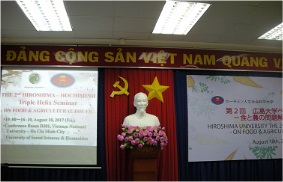 Seminar held at VNU Auditorium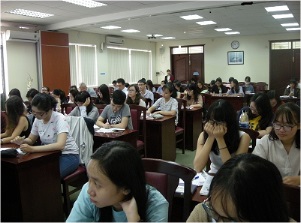 Active participation of students, researchers and participants from industry
[Inquiries]
Center for Collaborative Research and Community Cooperation,
Hiroshima University
TEL: 082-424-4313
E-mail: sangaku-renkei*office.hiroshima-u.ac.jp (Please replace * with @ when sending emails)