On October 17th, Rector Remigijus Žaliūnas of Lithuanian University of Health Sciences (LUHS), the Repubic of Lithuania paid a courtesy visit to Hiroshima University President Mitsuo Ochi on Higashi-Hiroshima campus and signed an International Exchange Agreement and Student Exchange Memorandum.
LUHS is a national University, founded in 2010 after the merger between Kaunas University of Medicine, originally established in 1922 and the Lithuanian Veterinary Academy.
The delegation then discussed future cooperative activities in details at the Hiroshima University Hospital and visited Department of Dermatology and Department of Cardiovascular Medicine.
Taking advantage of this opportunity, we look forward to active academic exchange between the two universities and the hospitals.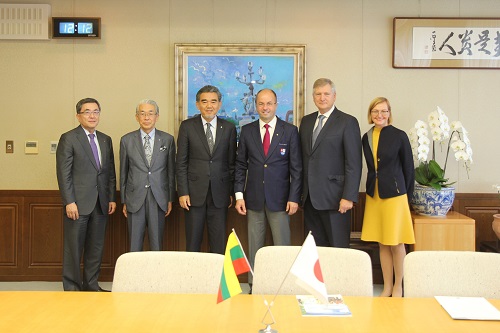 Rector Remigijus Žaliūnas (right in the center) and President Ochi (left in the center)
Inquiries:
International Exchange Group, Hiroshima University
TEL: 082-424-6045
E-mail: kokusai-group*office.hiroshima-u.ac.jp (Please replace * with @)