On November 30th 2017, the 3rd Japan-Mexico Rectors Summit began at Rihga Royal Hotel Hiroshima.
A total of about 150 delegates from 30 Japanese universities/institutions and 37 Mexican universities/institutions gathered in Hiroshima for the summit.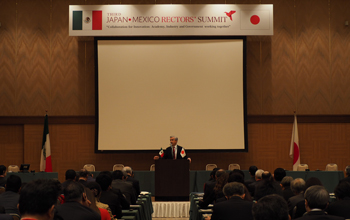 At the summit, President Ochi mentioned the growing importance of international industry-academia-government collaboration between Japan and Mexico as many companies expand their business to overseas markets. He also emphasized the importance of this summit because "There are great expectations for universities to play various roles, such as promoting students and researchers exchange, deepening knowledge through joint research, creating innovation, and nurturing individuals with knowledge and skills sought by companies in both Japan and Mexico."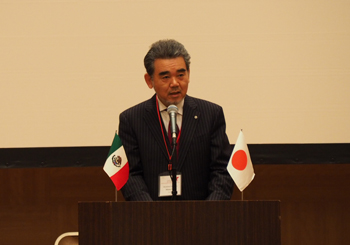 Remarks by President Ochi, Hiroshima University
After President Ochi's remarks, there were also remarks by Ambassador Agustin García-López Laoeza, Executive Director of AMEXCID, who is the co-organizer of the summit, followed by Mr. Hidehiko Yuzaki, Governor of Hiroshima Prefecture, Ambassador Carlos Almada Lopez, Embassy of Mexico in Japan, Mr. Tadayuki Fujino, Deputy Director-General for Policy Evaluation, MEXT, Dr. Jaime Valls Esponda, Executive Secretary General, ANUIES and Mr. Daisuke Nakano, Director of Mexico, Central America and Caribbean Division, MOFA.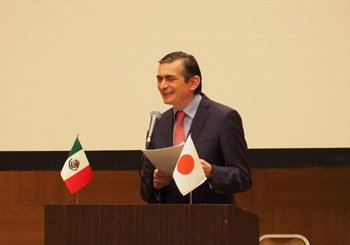 Remarks by Agustin García-López Laoeza, Executive Director of AMEXCID
Keynote presentations were made by Mr. Seita Kanai, Representative Director and Chairman of the Board, Mazda Motor Corporation, and Dr. Enrique Luis Graue Wiechers, Rector, UNAM. It was then followed by three sessions.
The summit was held under the theme "Collaboration for Innovation: Academy, Industry and Government working together" to discuss industry-academia-government collaboration, research collaboration, and student exchange, as well as to promote exchange between universities in Japan and Mexico.
On November 29th, the day before the summit began, the delegates from Mexico visited Hiroshima Peace Memorial Museum, and made a floral tribute at the Hiroshima Peace Memorial Park.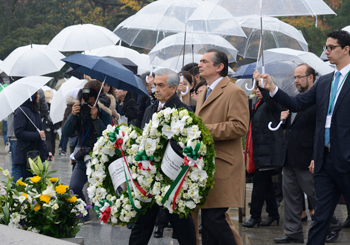 [Inquiries]
International Exchange Group, Hiroshima University