On the 12th of December 2017, Hiroshima University concluded an inter-university exchange agreement with Lund University in Sweden. HU President Mitsuo Ochi paid a visit to Lund University, and then he signed the agreement with Prof. Torbjörn von Schantz, the Vice-Chancellor of Lund University.
Lund University was founded in 1666 and is one of the most prestigious universities in Sweden. So far, the two universities have deepened exchanges through various activities such as participation in the project 'MIRAI – Connecting Swedish and Japanese universities through research, education and innovation' where top leading universities from the both countries participated in.
With this agreement as momentum, it is expected that interactions between the two universities will be further developed.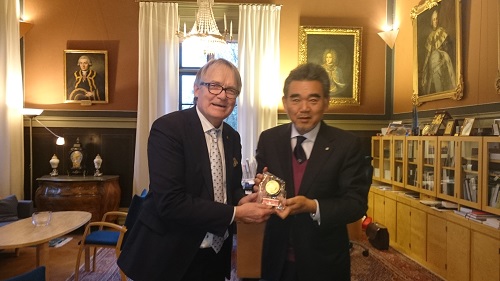 Commemorative Photo of Vice-Chancellor Torbjörn von Schantz (left) and President Mitsuo Ochi (right)
[Inquiries]
International Exchange Group, Hiroshima University