On December 14th, 2017, Hiroshima University concluded an agreement on Internship Program with the United Nations Educational, Scientific and Cultural Organization (UNESCO). This agreement was set off by the suggestion from Assistant Professor Yui Arimatsu, who is now a dispatched staff from HU to the UNESCO Headquarters. And recently, HU president Mitsuo Ochi visited the UNESCO Headquarters in Paris, France and signed the agreement with Mr. Hong Kwon, the Director of UNESCO Bureau of Human Resources Management.
According to this agreement, HU graduate students will have the opportunities to do long-term internship at the UNESCO Headquarters or related institutions for six months to one year. It is an attractive program for students who wish to work in international organizations in the future.
Hiroshima University aims to cultivate "peace-pursuing, cultured individuals with international mindset and a challenging spirit". Providing internship opportunities abroad like this is one of HU's efforts in nurturing global human resources.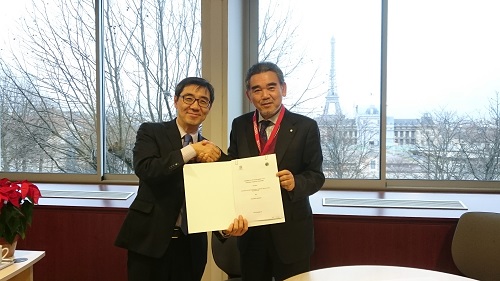 Commemorative photo of Director Hong Kwon (left) and President Mitsuo Ochi (right)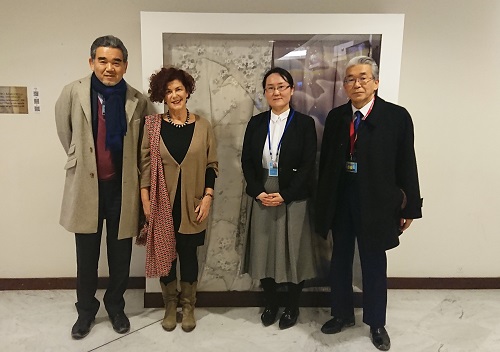 Commemorative photo at UNESCO (Assistant Professor Yui Arimatsu is 2nd from the right)
[Inquiries]
International Exchange Group, Hiroshima University