Prof. Yohsuke Yamamoto, Executive and Vice President for Research at Hiroshima University, visited several Indian academic institutes and organizations between 8th and 12th December 2017, together with Professor Idaku Ishii (Graduate School of Engineering) and Professor Shinji Kaneko (Graduate School for International Development and Cooperation).
The memorandum of agreement with the Council of Science and Industry Research (CSIR) was signed on 9th December, after enthusiastic discussion with Dr. Girish Sahni, Director General of CSIR, on future student and researcher exchange, and further research collaboration between our two institutes. The following day, the delegates attended a tree-planting ceremony to commemorate the opening of a joint laboratory with Hiroshima University - focusing on high-speed vision research. Located at the Central Electronics Engineering Research Institute (CSIR-CEERI) - one of the 38 research institutes making up the CSIR, the ceremony received much media attention.
In addition, the Hiroshima University delegation visited the Birla Institute of Technology and Science, Pilani, and the Indian Institute of Engineering Science and Technology, Shibpur, on 9th and 10th December respectively, with the purpose of exploring further research collaboration.
Prof. Yamamoto said of the trip, "We believe this memorandum, and dialogue with leading Indian institutes will greatly advance the capabilities of our respective institutions - and help us to become a trendsetting global university. By taking the lead in India-Japan research collaboration, we will assist higher education – and society at large, ready itself for the transnational challenges that lie ahead in the years to come."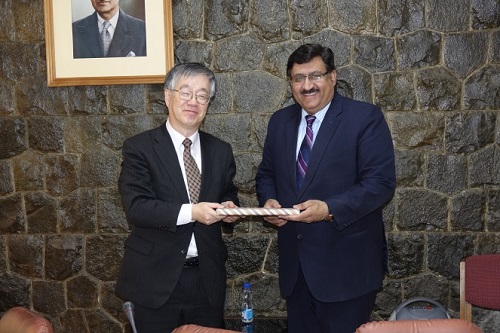 Prof. Yamamoto and Dr. Sahni conclude a memorandum of understanding for future researcher and student exchange and greater research collaboration.
[Inquiries]
Research Planning Office, Hiroshima University
TEL: 082-424-4397
E-mail: gakujutu-kikaku*hiroshima-u.ac.jp (Please replace asterisk with @)