On March 5th 2018, Mr. Fabrizio Hochschild, Assistant Secretary-General for Strategic Coordination, Executive Office of Secretary-General (EOSG), United Nations, visited the Higashi-Hiroshima Campus and met with President Ochi.
After that, Mr. Hochschild gave a lecture titled "Peacebuilding in a Changing World". Approximately 100 students and faculty members attended the lecture and listened intently until the very end of the lecture. The lecture was followed by an active question and answer session where students enthusiastically asked questions one after another, showing their interests in the lecture.
HU has maintained the founding principle of "a single unified university, free and pursuing peace," and it also upholds "the pursuit of peace" as one of its five guiding principles. Therefore, we are fortunate to have Mr. Hochschild, who has devoted himself to the peacebuilding activities in the United Nations, as a guest lecturer of our lecture meeting. It has certainly become a meaningful opportunity for our students and staff to think about this topic deeply.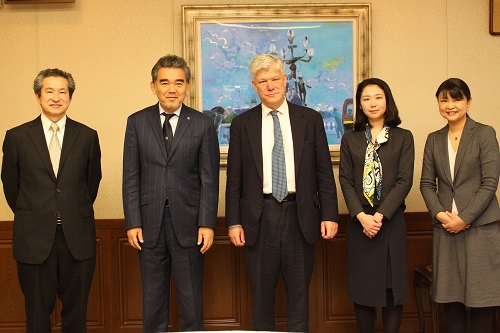 Commemorative photo by Mr. Hochschild (center), President Ochi (second from the left) and other participants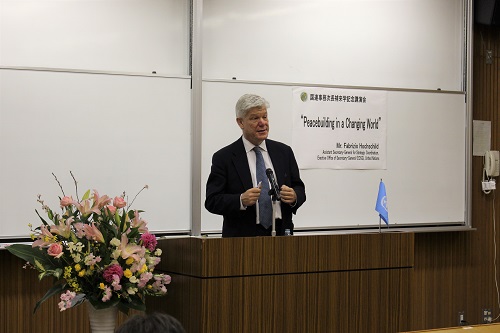 Mr. Hochschild giving his lecture
 [Inquiries]
International Exchange Group, Hiroshima University