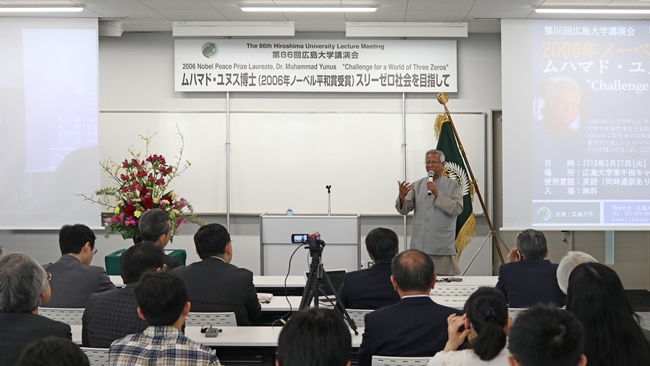 On March 27th, Dr. Muhammad Yunus, the Nobel Peace Prize Laureate, made a lecture presentation at the Higashi-Senda Innovative Research Center in Naka-ku, Hiroshima-shi.
In the lecture titled "Challenge for a World of Three Zeros", Dr. Yunus shared his concerns with the audience by saying that 99% of the world's wealth is owned by only 1% of the world population, of which situation he criticized by saying "An economic system that prioritizes benefits causes poverty. We must change such system."
It was back in 1983 that the Grameen Bank was established by Dr. Yunus in Bangladesh in order to save the people in poverty. Up until now, the bank has provided funds to nine million of women in rural areas in the form of microcredit (small unsecured loans), which transformed these women into financially independent individuals.
He also stressed the importance of social business, along with charity support, which is a way to solve social problems with business skills when supporting the people in poverty. He concluded the lecture by saying, "Imagination makes all the impossible possible."
The venue was filled with about 130 people including the students of Hiroshima University and local citizens. During the Q&A session, many people raised their hands to ask questions to Dr. Yunus. Following the presentation, President Ochi awarded Dr. Yunus with the title of "Hiroshima University Honorary Distinguished Professor."
Dr. Yunus was awarded the Nobel Peace Prize in 2006, along with Grameen Bank, for his great contributions to alleviate poverty in Bangladesh. In holding this event, Mr. Kazutaka Yamamoto, a special advisor of the Chugoku Shimbun, took much trouble on HU's behalf.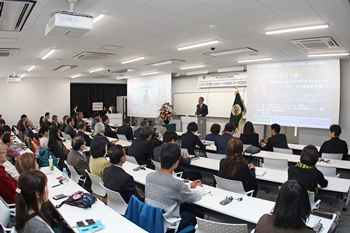 President Ochi giving the opening speech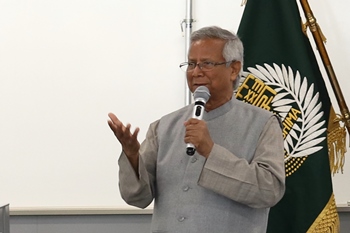 Dr. Yunus giving a lecture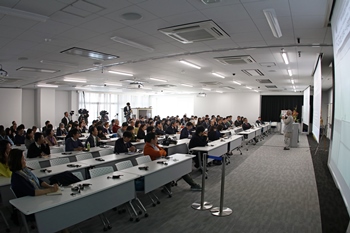 The participants drawn into Dr. Yunus's speech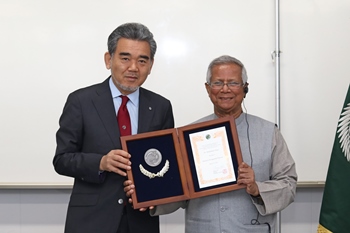 Commemorative Shield of the Honorary Distinguished Professor
[Inquires]
International Exchange Group, Hiroshima University
E-mail: kokusai-group*office.hiroshima-u.ac.jp (Please replace * with @)