On June 25, 2018, Hiroshima University held a cultural exchange event. We scheduled the event to take place after the Ramadan fast ended in order that all of our international students, faculties, and staff members with various cultural and religious backgrounds could join the event to eat together. We had more than 300 participants who consisted of not only Muslim students and foreign researchers, but also Japanese students, non-Muslim international students, and staff of Hiroshima University.
In holding the event, Hiroshima University received support from Otafuku Sauce Co., Ltd. (a global company founded in Hiroshima and famous for its production of Okonomi Sauce), with which Hiroshima University has concluded a comprehensive collaboration agreement. The company kindly provided us with its original "Halal Okonomi Sauce," which received Halal certification (a certification given to food items which are lawful, permitted, or allowed for Muslims) from an official certifying agency.
Also, Yamadaya Co., Ltd., famed for its "Momiji-Manju" (small, maple-leaf-shaped sweets), kindly offered us its Halal certificated "Momiji-Manju" and "Shakushi-Senbei" (rice-spatula-shaped crackers), and Chugoku Sangyo Co., Ltd., the company managing Higashi Hiroshima Driving School, kindly offered us drinking water.
With the cooperation of the General Incorporated Foundation Oconomiyaki Academy, we prepared dedicated iron plates, on which Okonomiyaki was cooked, at the University Hall where the event took place. Participants fully enjoyed Okonomiyaki served by professional chefs, which was freshly baked and catering to vegetarians and Muslims.
Some participants left positive comments: "It's not easy to get halal food in Japan so I really appreciate this kind of event," "It's my first Okonomiyaki and it's very good! I knew that Okonomiyaki is one of Hiroshima's famous foods and I always wanted to try one," "I enjoyed interacting with the international students."
Students and staff members with a wide variety of dietary backgrounds were able to promote cross-cultural exchange and mutual understanding beyond cultural differences, while enjoying Hiroshima's food together.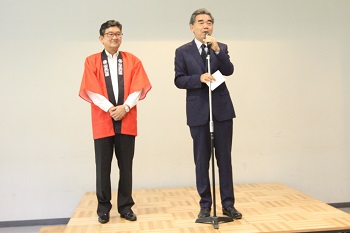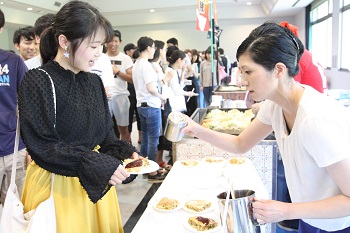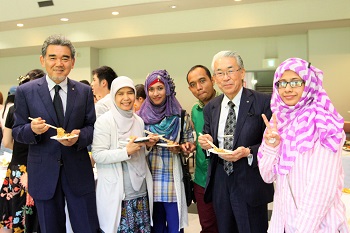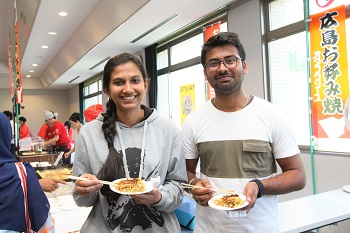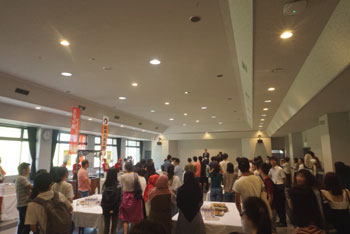 Inquiries:
International Exchange Group, Hiroshima University
TEL: 082-424-6184
FAX: 082-424-4545