On 6th August 2018, Hiroshima University Memorial Service for the Victims of the Atomic Bomb was held to console the spirits of staff members, teaching staff, students and pupils of Hiroshima University's predecessor schools who experienced the atomic bomb attack and lost their lives. The memorial service is held every year in front of the "Hiroshima University Memorial Monument for the Victims of the Atomic Bomb" at the Higashi Senda campus.
A total of around 140, including the bereaved families and representatives from the university, attended the memorial service. We also had five attendees from overseas including H.E. Mr. Ayman Aly Kamel, Ambassador of Eygpt to Japan, President Mohammed Othman Al Khasht of Cairo University, Professor Camilo Alberto Borrero Garcia of National University of Colombia.
In the beginning of the service, President Ochi and the representatives from the bereaved family members dedicated the register containing the lists of the 1,981 names of the victims to the cenotaph, and all the participants offered silent prayers for one minute. That was followed by the President's memorial address in which he promised that all the staff and students at Hiroshima University are determined to make more efforts in order to realize world peace by devoting themselves to education, research, and by contributing to society. Participants of the memorial service made a floral tribute and offered some water to the cenotaph to console the souls of the victims.
Following the memorial service, flowers and water were dedicated to the adjacent Monument of the buried remains of the A-bomb victims.
Following that, the representatives from the university and three Malaysian students currently studying at Hiroshima University, held a memorial service and offered condolences at the Kouzenji Temple (located in Saeki-ku, Hiroshima City) to console the soul of Mr. Nik Yusof, a Malaysian student who fell victim to the atomic bombing and was then studying at Hiroshima University of Literature and Science, which was one of the fore-runners of the present Hiroshima University.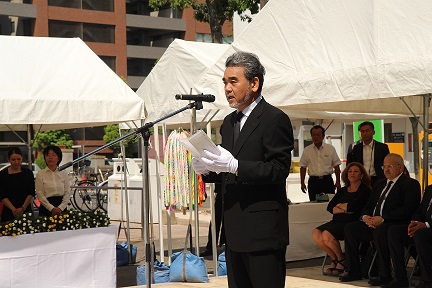 President Ochi offering his condolences to the souls of 1,981 victims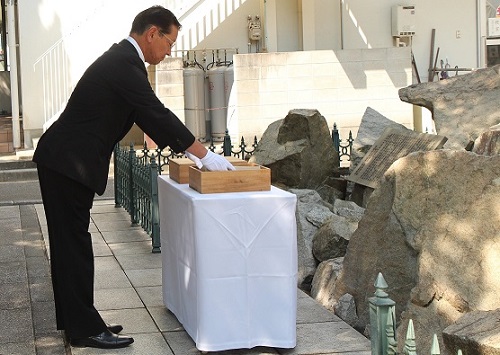 The representatives from the bereaved families dedicating the register to the cenotaph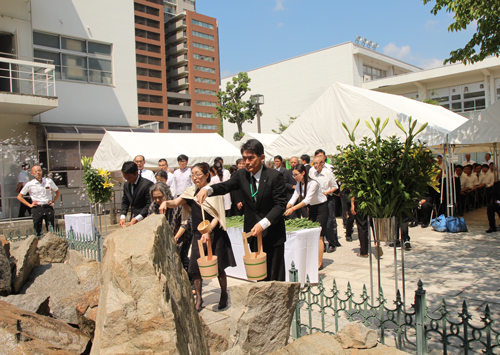 The bereaved family members of the atomic bomb victims and other participants for the service dedicating flowers and water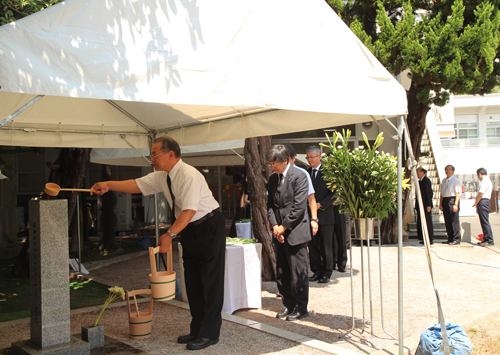 Dedicating flowers and water to the Monument of the buried remains of the A-bomb victims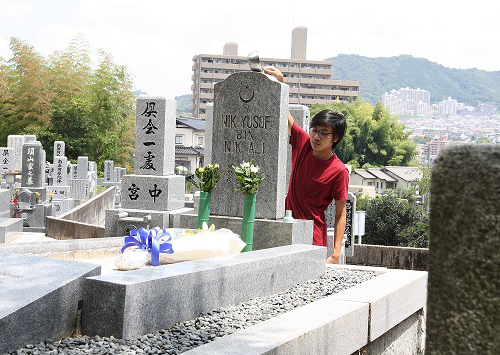 Malaysian students offering prayers at the grave of Mr. Nik Yusof
Contact for inquiries:
General Affairs Group, Hiroshima University
E-mail: soumu*office.hiroshima-u.ac.jp (Please replace * with @ when sending emails)