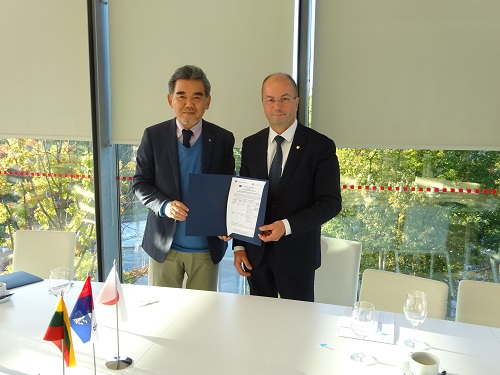 On September 27, President Mitsuo Ochi visited LSMU where he signed the Inter-University Agreement concerning ERASMUS+ Programme with LSMU Rector, Professor Remigijus Žaliūnas.
ERASMUS+ Programme is a funding scheme to support activities in the fields of Education, Training, Youth and Sport. It can facilitate exchanges between universities from EU countries and those from non-EU countries so as to promote academic and student exchanges of those institutions concerned. By concluding the agreement above, future students and academic exchanges between LSMU and Hiroshima University are entitled for financial support from the Programme. This means costs such as travel expenses for student exchanges, can be covered by the Programme.
Following the signing ceremony, President Ochi attended the Regenerative Medicine Seminar where he delivered a lecture entitled "Cartilage repair using magnet" to an audience of about 60 people including the students and faculty/administrative members from LSMU. In addition, President Ochi had a guided tour of Orthopaedics and Traumatology Department located in the Hospital campus of LSMU, where he enjoyed a lively exchange of opinions with the members there .
As an inter-university agreement between Hiroshima University and LSMU was concluded in October 2017, it is hoped that exchanges between the two universities will be further enhanced and expanded.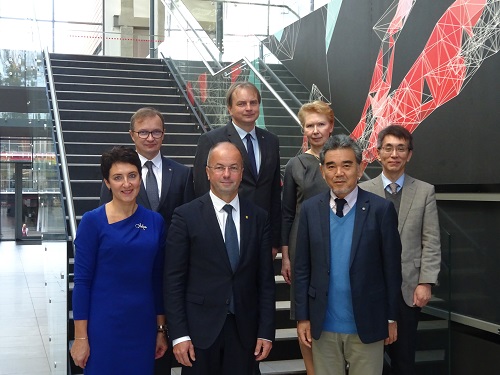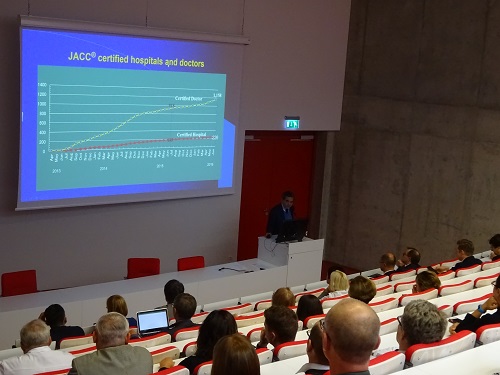 [Contact for inquiries]
International Exchange Group, Hiroshima University