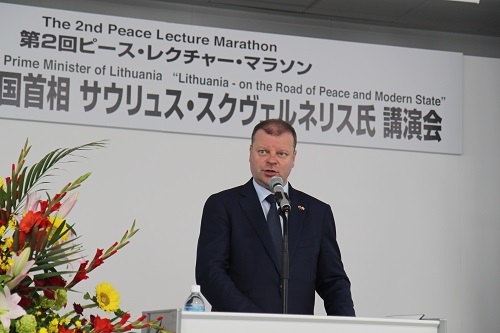 On October 11th, H.E. Mr. Saulius Skvernelis, Prime Minister of Lithuania, visited the Higashi-Senda campus in Hiroshima city and gave a lecture entitled "Lithuania - on the Road of Peace and Modern State."
This was the second lecture in the Peace Lecture Marathon, a series of lectures inviting government representatives and ambassadors in Tokyo to talk about peace. In his lecture, Prime Minister Skvernelis talked about how the Lithuanian people have fought for freedom and independence while going through hard times of many wars and occupation. He also proudly presented that the country today makes great progress in laser manufacturing and the field of Life Sciences.
The Higashi-Senda Innovative Research Center, the venue, saw an attendance of about 150 people including faculty, administrative members and students of Hiroshima University who were engrossed with his lecture. Following the lecture, President Ochi awarded H.E. Mr. Saulius Skvernelis with the title of "Hiroshima University Honorary Doctorate."
Hiroshima University (HU) has concluded international exchange agreements with three universities in Lithuania. This year, twenty undergraduate students of HU were sent to these universities to study through HU's START + Program (study abroad program).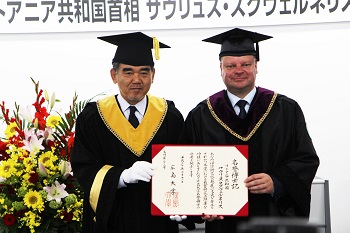 Awarding the title of "Hiroshima University Honorary Doctorate" to H.E. Mr. Saulius Skvernelis, Prime Minister of Lithuania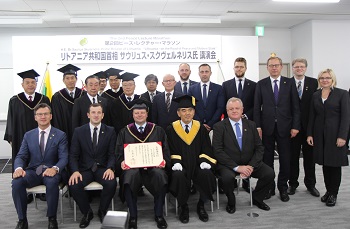 Commemorative photo taken after the Honorary Doctorate Awarding Ceremony
[Contact for inquiries]
International Exchange Group, Hiroshima University
E-mail: kokusai-group *office.hiroshima-u.ac.jp (Please replace * with @)