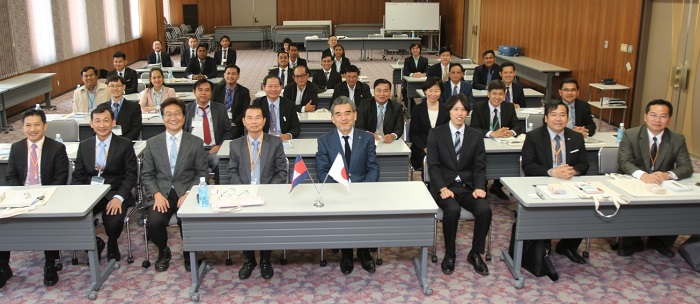 On October 29th 2018, His Excellency Pit Chamnan, Secretary of State of the Ministry of Education, Youth and Sport of the Kingdom of Cambodia (MoEYS), one of our international exchange agreement partners, along with 25 government and higher education officials, visited the Higashi-Hiroshima Campus.
During the meeting, President Mitsuo Ochi extended his welcome to the delegates from Cambodia. Then, Vice President Yasushi Maruyama and Vice Executive Taiji Hotta introduced about Japan's educational system, followed by staff from the Financial Planning Group who explained the management and fiscal efforts made by Hiroshima University (HU). In addition, Lecturer Hisashi Kuwayama from HU Educational Vision Research Institute (EVRI) outlined their ongoing projects related to international cooperation in education.
The meeting was also attended by international students from Cambodia, who had a pleasant talk with the delegates about their student lives in HU while walking around and enjoying the autumn colors on the campus.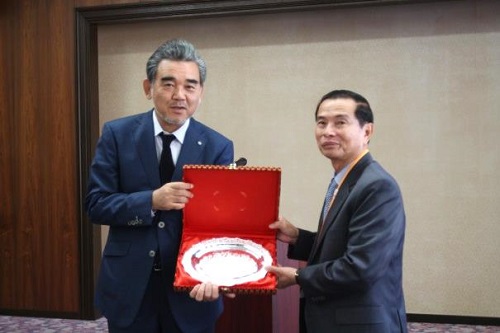 Commemorative photo of President Ochi (left) and H.E. Pit Chamnan (right)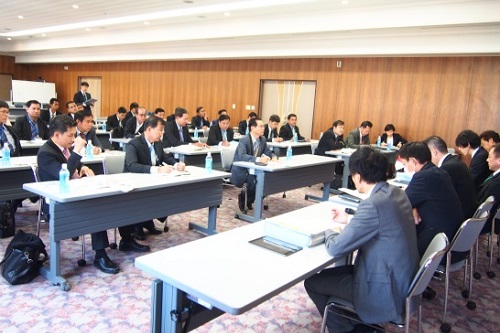 Delegates listening to the explanation about HU's management and fiscal efforts
On the following day, they visited the Hiroshima University Senior High School located in Hiroshima city where they observed a classroom lesson and were explained about the Super Science High School (SSH) project conducted with the support of the Ministry of Education, Culture, Sports, Science and Technology (MEXT).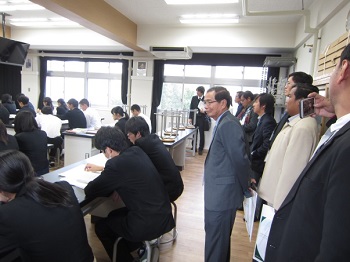 Delegates observing a science class
In March 2016, HU signed a Memorandum of Understanding for Academic Exchanges and Cooperation with the MoEYS. Further, in March 2017, the "Cambodia MoEYS-Hiroshima University Collaboration Center" was established in the Directorate General of Higher Education, MoEYS. It is hoped that the academic exchange between the University and Cambodia will continue to develop.
[Related Links]
[Inquiries]
International Exchange Group, Hiroshima University