Location: Directorate General of Higher Education, Ministry of Education, Youth and Sport, Cambodia
On March 2016, in order to promote peace and help develop human resources, Hiroshima University concluded a Memorandum of Understanding for Academic Exchanges and Cooperation with the Ministry of Education, Youth and Sport (MoEYS), Cambodia on March 2016.
On March 29, 2017, with the presence of Cambodia's Minister of Education and the Ambassador Extraordinary and Plenipotentiary of Japan to Cambodia, we held the Inauguration Ceremony for the "Cambodia MoEYS-Hiroshima University Collaboration Center" at the Directorate General of Higher Education, MoEYS.
Having the advantage of being close to the center of Phnom Penh, the center plays a pivotal role, as a Hiroshima University Overseas Base in Cambodia, in supporting a smooth, effective collaboration and academic exchanges with the government, local companies and corporations, and partner institutions of Cambodia. It also provides Cambodian students with information about study abroad at Hiroshima University, and Hiroshima University students studying in Cambodia will also receive various kinds of support from the center.
Hiroshima University will make every effort to promote the further development of higher education in Cambodia and Japan with this newly established center, aiming to develop into the "University of World-wide Repute and Splendor for Years into the Future."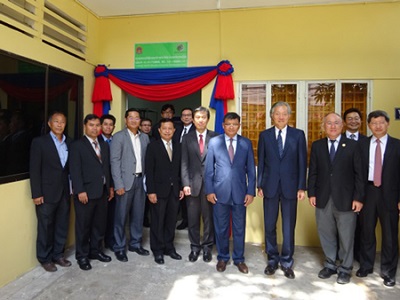 Group Photo in front of the Cambodia MoEYS-Hiroshima University Collaboration Center
Related Activities: