In the three university rankings announced by Vokers, Inc. and Nikkei BP Consulting, Inc., Hiroshima University has been ranked high as follows:
University Rankings by Vokers
3rd place for "university whose graduates feel that they have secured good places to work at"
​2nd place for "university with high proportion of graduates who feel they are treated well in their workplaces"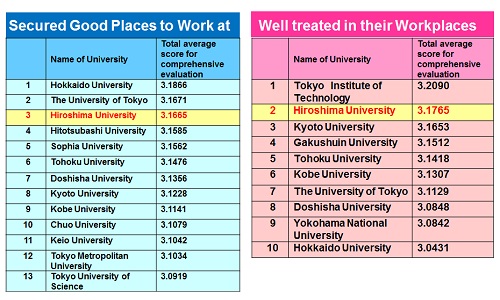 Source: "Vorkers" : https://www.vorkers.com/hatarakigai/vol_53
Announced on 23rd October 2018.
(The data for the survey above were collected from each employee at different companies, and the results announced on the Job hunting platform called "Vorkers" managed by Vorkers inc. )
University Ranking by Nikkei BP Consulting
Overall 1st place among 59 universities in Chugoku-Shikoku District for "Survey on University Brand Image 2018-19"
This online survey was conducted to business persons residing in Chugoku and Shikoku District between July and August of 2018. The respondents were asked about their perceptions and views on the 59 key universities located in Chugoku and Shikoku District. In total, there were 2,956 valid responses.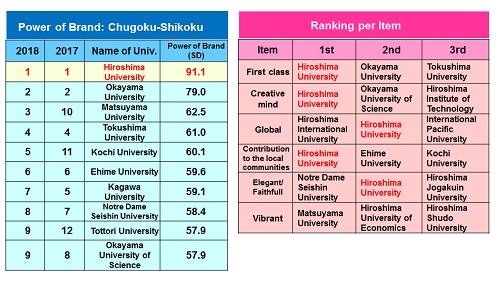 Source: 28th Nov. 2018 Nihon-Keizai Shinbun. Local economy page, listed universities in Chugoku area
According to "Survey on University Brand Image 2018-19," out of 49 items, HU came 1st place in 20 items including "Has a vision as educational institution"; "High degree of specialization & expertise"; "President/Faculty members being attractive."
For more details, please refer to this page.
[Contact for inquiries]
Hiroshima University Public Relations Group
E-mail: koho(*)office.hiroshima-u.ac.jp (Please replace the asterisk(*) with @)