In order to strengthen the innovation ecosystem based on the collaboration between Hiroshima University (HU) and its Mexican partner universities, two seminars were held in Mexico in March 2019. On March 15th, the third seminar was performed with the University of Guanajuato at Celaya Campus and on March 19th the seminar was co-sponsored with the National Autonomous University of Mexico (UNAM) in Mexico City.
The main topic was how to create collaborative links between the academy and the food technology industry on both seminars. From Hiroshima University, Prof. S. Ueno (Biological Science) and Prof. M. Villeneuve (General Science) gave lectures on chocolate and gluten-free food, respectively. In addition, Prof. N. Hirami explained the model of university business based on industry-academia-government collaboration and introduced products of Altan and Campus Medico based on patents owned by HU.
The seminars were with the participation of 100- 150 researchers, students, and business people including six local companies at Guanajuato, and the specialized Technology Transfer Office (TTO) named Chemistry Liaison Unit (UVQ) at UNAM.
These events are meant to be served as a knowledge exchange platform, as well as an opportunity for business development and enhanced cooperation between both countries.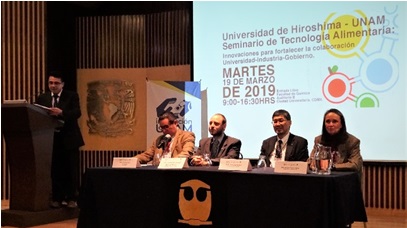 Panel discussion about industry-academia collaboration at UNAM, Mexico City.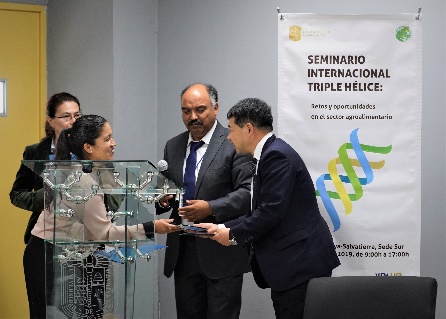 Professor Ueno and Professor Villeneuve received a letter of thanks from Guanajuato University
[Inquiries]
Global Innovation Division, Center for Collaborative Research and Community Cooperation, Hiroshima University