On April 9th 2019, the delegation from the Ministry of Science and Technology of the People's Republic of China led by Vice Minister Zhang Jianguo, visited the Higashi-Hiroshima Campus of Hiroshima University (HU) and met with President Mitsuo Ochi. The meeting was also attended by Executive Vice President Toshiyuki Sato (in charge of International/Peace/Fund), Professor Li Junyang (Vice Director of the HU Beijing Research Center) and Assistant Professor Jinpeng Liu (Graduate School of Letters).
During the meeting, President Ochi explained the HU's world-class research activities in various fields such as astrophysical science and medicine. In addition, Vice Minister Zhang expressed his expectation for development of research exchange between HU and universities in China.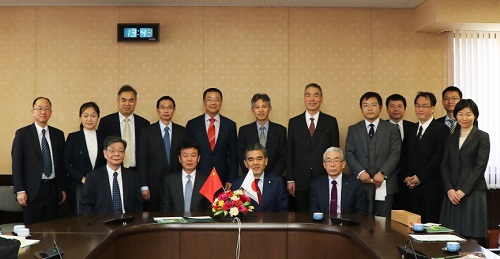 Commemorative photo (Left-Center: Vice Minister Zhang, Right-Center: President Ochi)
After the meeting, the participants visited and observed the Higashi-Hiroshima Astronomical Observatory that has the KANATA 1.5-m Optical and Near-Infrared Telescope as well as the "Center of KANSEI Innovation Nurturing Mental Wealth" that has been selected by the Ministry of Education, Culture, Sports, Science and Technology (MEXT) as part of the COI STREAM, both of which raised lively discussion among the participants.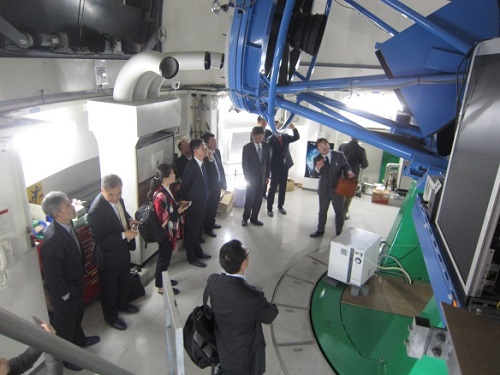 Participants observing the KANATA Telescope
We hope that researcher and student exchange with universities and institutions in China will continue to develop.
[Inquiries]
International Exchange Group, Hiroshima University