On October 29th 2019, President Mitsuo Ochi and Executive Vice President Toshiyuki Sato paid a visit to Karolinska Institutet in Stockholm, the capital city of Sweden, and had a discussion with President Ole Petter Ottersen.
Karolinska Institutet is one of the top reputed educational research institutes in Europe specializing in medicine. In 2008, our Graduate School of Biomedical & Health Sciences and the Karolinska Institutet's Department of Molecular Medicine and Surgery concluded a departmental agreement, and have promoted academic exchange since then.
During the discussion, the participants exchanged opinions on promoting academic exchange between the two institutes especially in terms of medical student exchange. We hope that the exchange between the two institutes will flourish from both the aspects of researches and students.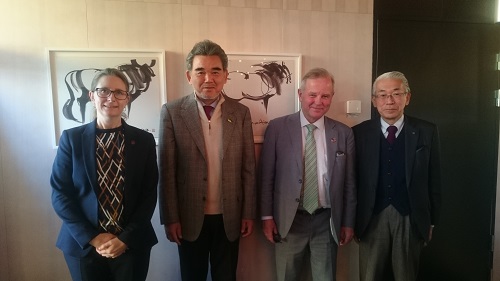 Commemorative photo
President Ottersen (center right) and President Ochi (center left)
[Inquiries]
International Exchange Group, Hiroshima University