On November 14th 2019, staff from 5 universities in the United Kingdom (Oxford Brookes University, King's College London, University of Warwick, Newcastle University, and University of Bristol) visited our Higashi-Hiroshima Campus, as part of study tour of the Association of University Administrators (AUA) in UK.
The meeting started with a brief introduction of Hiroshima University (HU) and its current efforts concerning "international strategy", "finance affairs", "education", "student support", "personnel development" etc., followed by a lively exchange of opinions. This meeting gave a good opportunity for us to reaffirm the strengths and the challenges of HU, as well as to compare the circumstances surrounding universities in Japan and UK.
With this visit, we hope that academic exchange with universities in UK will be further promoted.
Participants from UK
Ms. Liz Turner, Head of Academic Policy & Quality Office, Directorate of Academic and Student Administration, Oxford Brookes University
Mr. Chris Cooper, Associate Director for Service Transformation, Business Support & Change Team, King's College London
Mr. Oliver Cooper, Head of Strategic Projects & Administration, Campus and Commercial Services Group, University of Warwick
Ms. Laura Johnson, Learning and Teaching Manager, Faculty of Science, Agriculture and Engineering, Newcastle University
Ms. Chiara Singh, School Office Manager, University of Bristol
Participants from HU
Professor Hajime Nishitani (Deputy Executive Director in charge of SGU)
Takao Noda (Executive Manager, Department of International Affairs)
Yuriko Kawakubo (Chief Manager, International Exchange Group)
Hiroaki Korekuni (International Exchange Group)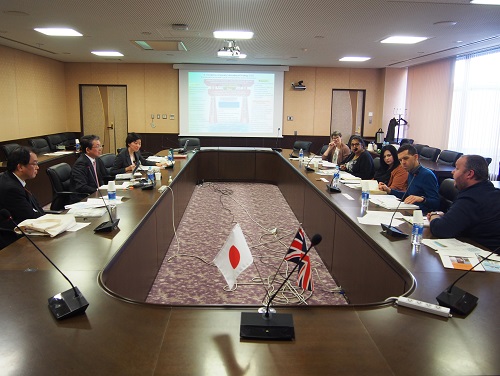 Participants exchanging opinions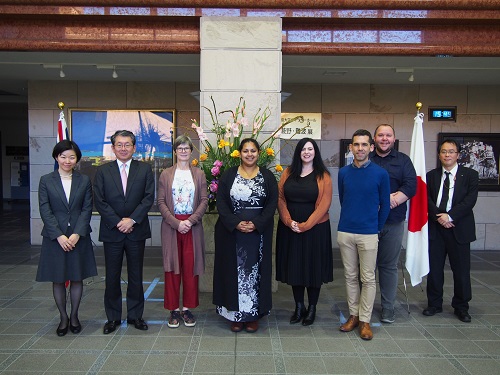 [Inquiries]
International Exchange Group, Hiroshima University