Hiroshima University will host SERU International Symposium "SERU Student Survey for EBPM, EBSM" as follows.
*SERU: Student Experience in the Research University
*EBPM: Evidence-Based Policy Making
*EBSM: Evidence-Based Strategy Making
As part of the Top Global University Project, Hiroshima University is a member of the SERU Consortium. Along with this, the University has been conducting SERU student surveys since 2015. On the survey conducted in 2018 in collaboration with the student life survey, the response rate from students was impressive.
The purpose of this symposium is to analyze data received in 2018's survey and reflect the results internally. Mr. OKUI Masahiro, who is the Deputy Director at Policy Division of Higher Education Bureau, Ministry of Education, Culture, Sports, Science and Technology, JAPAN, will give a lecture on the significance of student surveys in Japan. Also, one of the experts from SERU Consortium member universities will talk about good practices on how the SERU Student Survey has been used.
All the faculty members and students are welcome!
[Date / Time]
Monday, December 2, 2019 13:00-16:00 (Doors open at 12:30)
[Venue]
Reception Hall, Faculty Club 2F
Hiroshima University, Higashi-Hiroshima Campus
[Topic]
"SERU Student Survey for EBPM, EBSM"
*Japanese-English simultaneous interpretation available.
[Application]
Please apply from here by November 25 (Monday) 27 (Wednesday), 2019
[Program]
Opening remarks
MIYATANI Makoto
Executive Vice President (Education)
Hiroshima University
What is SERU?
WATANABE Satoshi
Senior Vice President (University Strategy)
Hiroshima University
SERU survey results at Hiroshima University
MURASAWA Masataka
Associate Professor
Research Institute of Higher Education
Hiroshima University
ABE Yasumi
UEA at Education Office
Hiroshima University
Lessons Learned: 10 years of SERU at the University of Minnesota
Dr. Ronald Lawrence HUESMAN, Jr.
Interim Director
Office of Institutional Research at the University of Minnesota
Significance of Student Survey (tentative)
OKUI Masahiro
Deputy Director, Policy Division, Higher Education Bureau,
Ministry of Education, Culture, Sports, Science and Technology, JAPAN
SERU Peer Review
UMESHITA Kenichiro
Assistant Chief Manager,
Office of Global Initiatives, Hiroshima University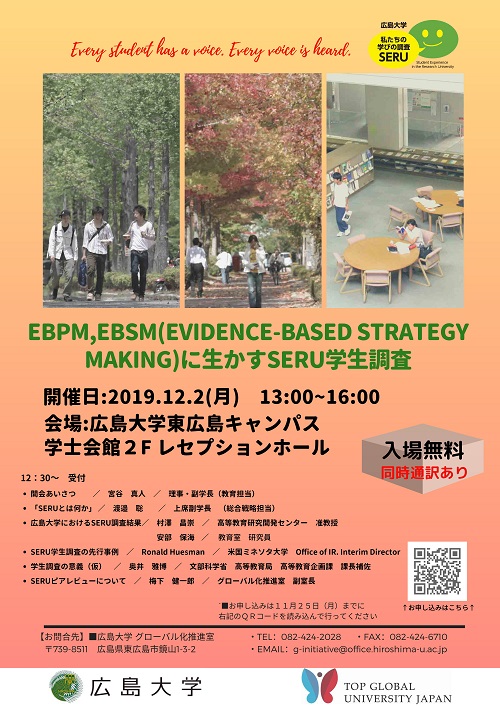 Please click here to view the full size flyer (PDF: 694.46 KB)

UC Berkeley Center for Studies in Higher Education
About Student Experience in the Research University (SERU)
[Inquiries]
Office of Global Initiatives, Hiroshima University
E-mail: g-initiatives*office.hiroshima-u.ac.jp
(Please replace * with @)