On December 21st 2019, the 6th Japanese Essay Speech Contest was held at Shanghai International Studies University (SISU), one of the inter-university exchange agreement partners of Hiroshima University (HU).
This was the sixth time that HU, SISU and Komaru Transportation Foundation have co-hosted this essay speech contest. This year's theme was "Transportation". The contest invited applications from universities students in and around Shanghai and 171 students from 7 universities submitted their essays. Universities recommended 33 of them and 6 students were selected for excellence awards and they presented their essays in the SISU auditorium. There were about 200 people in the audience including Japanese language learners and teachers.
Mr. Shigehiro Komaru, Head Director of the Komaru Transportation Foundation and President of the Fukuyama Transporting Co. Ltd., as well as Dr. Sheng Wenzhong from the SISU's School of Japanese Studies, gave an opening address respectively before the contest. Following that was an address by Ms. Tomoko Takaoka, Cultural Consul of the Consulate-General of Japan in Shanghai.
The 6 selected students delivered their speeches in Japanese. After severe reviewing, Ms. Shen Yuqi from Huaiyin Normal University was selected to be the first prize winner, and Ms. Guo Fanchen from SISU won the "Consul-General of Japan in Shanghai Special Award".
The contest was concluded with the closing remarks by HU Executive Vice President Toshiyuki Sato. The audience listened intently until the very end of the contest.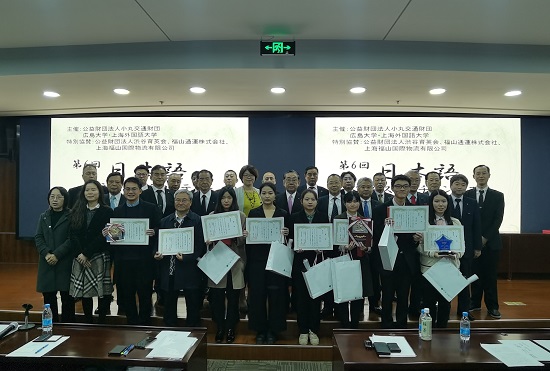 Commemorative photo with the finalists
 [Inquiries]
International Exchange Group, Hiroshima University
TEL: 082-424-6042