On January 16th 2020, a delegation from Yango University in China led by President Qiao Haishu visited the Higashi-Hiroshima Campus of Hiroshima University (HU) and met with President Mitsuo Ochi and Executive Vice President Toshiyuki Sato (in charge of International, Peace and Fund affairs). The meeting was also attended by Assistant Professor Liu Jinpeng from the HU Graduate School of Letters.
Yango University is a private university located in Fujian Province of China. HU and Yango University concluded an inter-university exchange agreement in September 2016, and have actively promoted exchange since then focusing on student exchange such as the Morito Institute of Global Higher Education 3+1 Program and the Japanese Language and Culture Special Program.
During the meeting, opinions were exchanged on the past records and future perspectives of the exchange between the two universities. It is hoped that collaboration between both universities will be further promoted.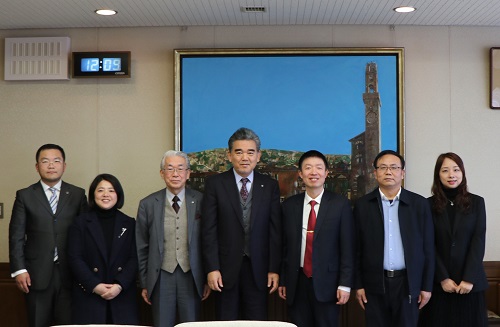 Commemorative photo (Center right: President Qiao, Center: President Ochi)
[Inquiries]
International Exchange Group, Hiroshima University