On March 18, 2020, Mr. Yu Yamane, a 3rd year Ph.D. student of HU's Graduate School of Advanced Sciences of Matter was awarded the 10th Japan Society for the Promotion of Science (JSPS) Ikushi Prize.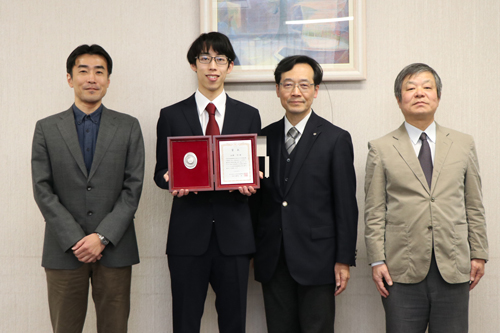 From left to right: Prof. Takahiro Onimaru (Research Supervisor), Mr. Yu Yamane (Awardee), Mr. Shinichi Tate (Executive Vice President (Research)), and Mr. Junichi Kato (Dean of the Graduate School of Advanced Sciences of Matter)
The Ikushi Prize was established to commemorate the 20th anniversary of Emperor Akihito's reign through an imperial endowment to support young scientists who work diligently to advance their studies and research despite the challenging economic conditions. The award was established in 2010 to recognize outstanding students in doctoral courses who are expected to lead the development of Japan's academic and scientific research.
Mr. Yamane is among this year's 18 awardees, selected from 175 nominees recommended by university committees and academic organizations. This is the first time in six years, that an HU student gets awarded the Ikushi Prize. As well as Mr. Yamane, two other HU students have also been awarded the afore-mentioned prize in the past.

Amid COVID-19 outbreak, the award ceremony which was expected to take place at the Japan Academy (Nippon Gakushi-in), was held at the university facilities.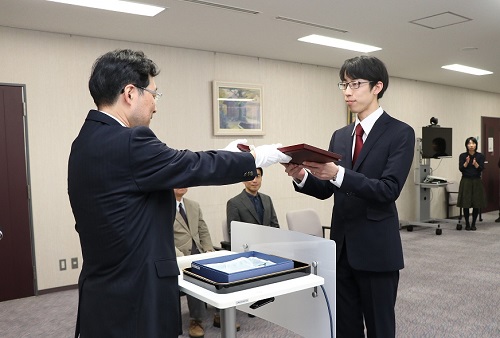 Certificate and prize award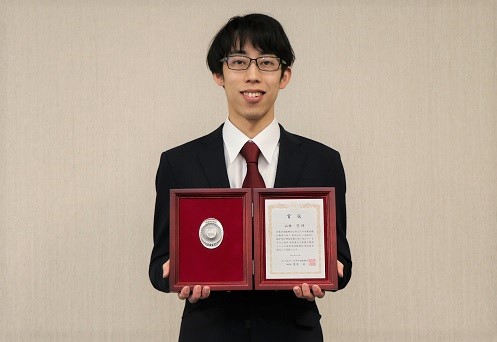 "I am honored to receive such a prize. I want to do better research in the future and honor the name of the Ikushi Prize," says Yamane.
[Inquiries]
Hiroshima University, Academic Research, and Industry-Government Collaboration Planning Group