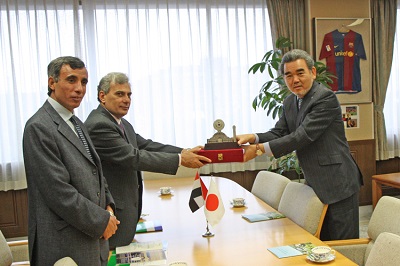 On February 23rd, President Ochi received visits from Dr. Gaber Nassar, President of Cairo University, and Dr. Hany El-Shemy, Faculty of Agriculture Dean of Cairo University, at Higashi Hiroshima campus.



This visit was made in accordance with the International Exchange Agreement concluded during President Ochi's visit to Cairo University last December.



It was Dr. Gaber's first visit to Japan, whereas Dr. El-Shemy enjoyed coming back to the campus as he completed his Ph.D at the Graduate School of Biosphere Science, Hiroshima University.



During their talk, they exchanged opinions about promotion of research exchanges between the two universities, and peace and moral education. Dr. Gaber shared his plan to hold "Japan Week" from August 6th at Cairo University to introduce Japanese culture and Hiroshima University to Egyptian people.



After their talk, they joined the "Banquet for Egyptian Students and Researchers". A total of 30 participants enjoyed having casual conversations with the two Presidents. The participants included Egyptian students and researchers that are engaged in their studies and research at Hiroshima University, and their supervisors.



We expect that we will have more exchange of students and researchers between Cairo University and Hiroshima University.
Inquiries:

Hiroshima University Education and International Office

International Exchange Group

TEL: 082-424-6041