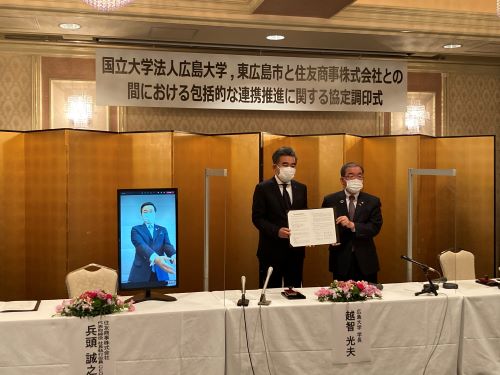 President Mitsuo Ochi from Hiroshima University (located in Higashihiroshima City, Hiroshima Prefecture), Higashihiroshima City Mayor Hironori Takagaki, and president and CEO of Sumitomo Corporation (based in Chiyoda-Ku, Tokyo) Masayuki Hyodo (collectively referred to as the "three parties") have signed an agreement on January 26, 2021, promoting comprehensive collaboration to achieve Society 5.0 and develop a smart city in Higashihiroshima City and surrounding areas. Through this agreement, the three parties aim to create a new industry-academia-government cooperation model for regional revitalization.
The purpose of the agreement is to contribute to the world and the local community by promoting the establishment of an environment for innovation and academic research, developing human resources, and fostering industry-government-academia collaboration on an international scale.
Hiroshima University aims to practice "Science for Sustainable Development" through a virtuous cycle of global development and regional revitalization, based on its founding spirit of "a single unified university, free and pursuing peace." Intending to realize the Sustainable Development Goals (SDGs) and Society 5.0, Hiroshima University promotes collaboration with Arizona State University in the United States and local authorities in the region, with a vision of international expansion. This agreement will accelerate this goal and make Hiroshima University a world-class research and education institution adapted to the new post-Corona era.
In the Fifth Higashihiroshima City Comprehensive Plan, formulated in 2020, Higashihiroshima City has set out a vision for its future as "an international academic research city rich in nature, and that challenges the future." Utilizing advanced technologies such as AI and big data, the city will develop measures to solve local issues and strive to realize a friendly future city through collaboration with companies and universities.
Sumitomo Corporation will set up a "Local 5G" open laboratory in the newly constructed International Exchange Center to work on digital transformation within Hiroshima University. The lab will promote joint research on the use of 5G with the university and the private sectors, utilize the data on movement and activities within the university, and conduct experiments on light mobility, aiming to expand the application of 5G beyond the campus. We will also build a system to foster university-based innovation. In the future, Hiroshima University aims to cooperate with the smart city development project conducted in the northern part of Hanoi, Vietnam.
Contents of this Agreement
Matters concerning the transformation of Hiroshima University's Higashi-Hiroshima Campus into a smart and green campus.
Realization of Society 5.0 and smart city development in Higashihiroshima City and the surrounding areas.
Support for the creation of innovations necessary for the realization of Society 5.0 and smart cities.
Academic research necessary for the realization of Society 5.0 and smart cities.
Education necessary for the realization of Society 5.0 and smart cities.
International development and expansion of Society 5.0 and smart city projects.
Other matters deemed necessary by Hiroshima University, Higashihiroshima City, and Sumitomo Corporation.
[Inquiries]
Hiroshima University
Office of Research and Academia-Government-Community Collaboration
TEL:082-424-4457  
E-mail:tgo*hiroshima-u.ac.jp (Please replace * with @)