On April 17th 2021, the 4th Japanese Essay Speech Contest was held online. This contest, with the theme of transportation, has been cohosted annually since 2017 by Hiroshima University Vietnam Center, Komaru-Koutsu Foundation and the Faculty of Japanese Studies of the University of Social Sciences and Humanities, Vietnam National University, in Ho Chi Minh City (USSH). In previous years, the event was held at USSH in Ho Chi Minh City, where the Hiroshima University Vietnam Center is located. However, due to the influence of COVID-19, this year's contest was held online and broadcast live from two main venues, the headquarters of Fukuyama Transporting Co., Ltd. and USSH, with the public able to watch remotely. Out of the 101 applications from 12 universities in the south of Vietnam, 45 were recommended by their universities, and from those, 12 students were selected and presented their essays at the contest.
At the beginning of the contest, Mr. Shigehiro Komaru (President of the Komaru-Koutsu Foundation, and President of the Fukuyama Transporting Co., Ltd.), and Dr. Pham Tan Ha, Vice President of USSH gave their opening addresses.
Furthermore, Mr. Nobuhiro Watanabe, Consulate General of Japan in Ho Chi Minh City, who attended the event as a guest of honor, delivered a speech in which he endorsed the event for promoting friendship between Japan and Vietnam, and fostering human resources who will encourage greater communication and collaboration between the two countries.
Following the opening addresses, pre-recorded speeches made by the 12 finalists were broadcast and the judges gave their comments on each of the speeches. After rigorous judging, Huỳnh Nhật Phương Uyên from Foreign Trade University was awarded first prize.
The contest was concluded with a closing address from Executive Vice President Toshiyuki Sato of HU. The audience listened intently until the very end of the contest.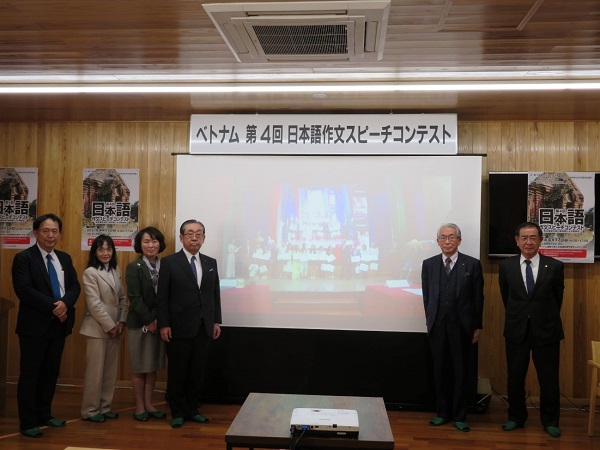 Group photo at the venue in Japan
[Inquiries]
Global Initiatives Group,
Hiroshima University
TEL: 082-424-3505