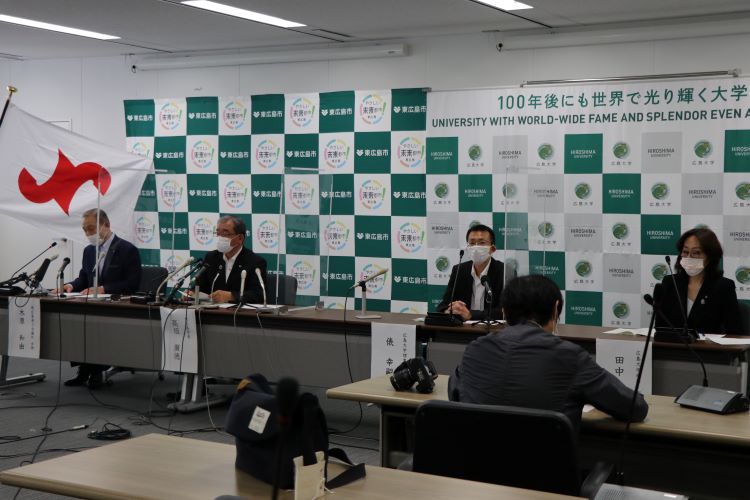 From left to right: Chairman Kihara, Mayor Takagaki, Executive Director Tawara, Executive Vice President Tanaka
Hiroshima University, Higashihiroshima City, and the Higashihiroshima Chamber of Commerce and Industry announced last Monday, June 14, a collective effort to provide COVID-19 shots to company employees and elementary and junior high school teachers and staff in Higashihiroshima City.
The announcement was made at a joint press conference at Higashihiroshima City Hall by HU's Executive Director Koji Tawara and Executive Vice President Junko Tanaka, Higashihiroshima City Mayor Hironori Takagaki, and Higashihiroshima Chamber of Commerce and Industry Chairman Kazuyoshi Kihara.
About 17,000 company employees and 2,000 teachers and staff of elementary and junior high schools in Higashihiroshima City are eligible for the vaccination. Vaccines will be administered at the West Gymnasium of HU's Higashi-Hiroshima Campus from early July to the end of August. HU will not only provide the venue but will also dispatch doctors, dentists, and nurses and will manage the vaccines. The chamber of commerce will arrange reservations for companies and the local government for schools.
"We have been working with Hiroshima University for some time to coordinate the administration of vaccinations. I believe that offering vaccinations at workplaces alongside the existing individual and group vaccinations will significantly accelerate the promotion of vaccinations for the general public in our city," Mayor Takagaki said.
Mr. Kihara also expressed his hope that the Chamber of Commerce and Industry will make every effort to ensure that the vaccinations proceed smoothly.
HU Executive Director Tawara commented, "It is the mission of Hiroshima University to contribute to overcoming the national crisis of the coronavirus. We are determined to cooperate in securing necessary medical personnel."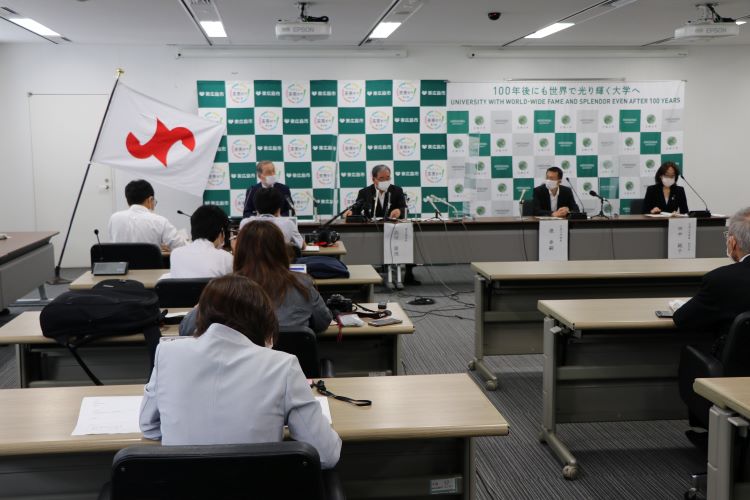 Press conference held at the Higashihiroshima City Hall
[Inquiries]
Hiroshima University
Deputy Executive Director (Public Relations)
E-mail:friji-koho*office.hiroshima-u.ac.jp(Please replace*with@)