"Oyako Panda Juku" is an online learning support program for elementary, middle, and high school students with developmental disabilities or visual impairment. Students and parents participate in this program together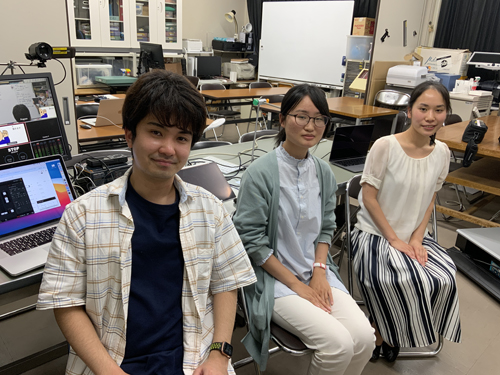 The team behind Oyako Panda Juku
Online support for students with learning difficulties helps us develop, too.
For the past 25 years, the Center for Special Needs Education Research and Practice attached to Hiroshima University's Graduate School of Humanities and Social Sciences has provided learning support to elementary, middle, and high school students with developmental disabilities or visual impairment who have difficulty learning.
We asked Kenta Ohara (Master's degree student), a member of the Educational Design for Teacher Educators Program, Field of Special Needs Education, to talk to us via e-mail about the online learning support program called "Oyako Panda Juku (Parent-Child Panda School)." Recently, the program was launched under a student-led system, taking over the activities of Associate Professor Kazuhito Ujima and others at the Center, switching to online support so that assistance could continue even amid the spread of COVID-19.
Please tell us about the involvement of HU students in the "Oyako Panda Juku"
Until now, Professor Ujima and his colleagues have been providing face-to-face consultations to students and their parents. However, after the spread of COVID-19 last year, they switched to online support, which was the beginning of the "Oyako Panda Juku." Seeing this, we students suggested that we try running the service ourselves, and in December, we launched the student-led online educational consultation service "Oyako Panda Juku."
The program has been well received by the users, and there were requests to continue the online educational counseling even after the face-to-face sessions started, as well as opinions that children with hyperesthesia learn better online from home. As a result, we decided to make the "Oyako Panda Juku" not just a temporary program but a growing program.
Please tell us about the group and its activities
Our members are students and graduate students who study special needs education, and many of them aspire to become teachers. Currently, we hold the "Oyako Panda Juku," and the "Panda Math School" once a month, and the "Panda English School" twice a month online. Some students with developmental disabilities or visual impairment may benefit from the use of information and communications technology (ICT) devices such as tablets for reading, writing, thinking, and information management, but there are still few facilities in Japan that provide lectures on how to use such devices. The "Oyako Panda Juku" offers themed workshops on how to use iPad applications in learning situations, while the "Panda Math and English School" allow students to learn how to effectively use ICT through subject study.
What were some of the points that you thought carefully about when providing online learning support?
We were able to use the equipment in the lab, so we do have a sufficient amount of equipment, but we are constantly working on ways to make it easier for the users to understand what we are doing, such as using special software that displays on the computer screen what we are writing on the tablet.
Also, when online, it is sometimes difficult to know others' responses. Therefore, we try to communicate with each other by using Zoom's reaction and chat function. Moreover, during the explanations, we try to visually inform the participants of the current activities by showing a card on the edge of the screen that indicates what we are doing now.
Thanks to the use of Facebook and other means of recruiting users, we have had participants not only from Hiroshima Prefecture but from all over Japan.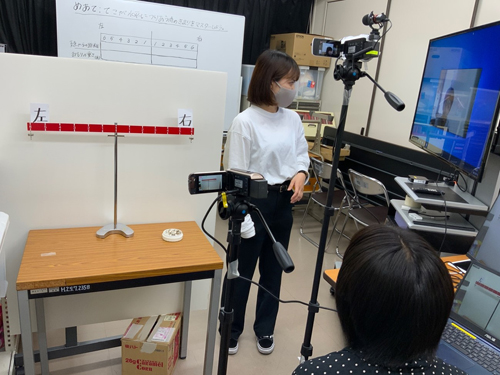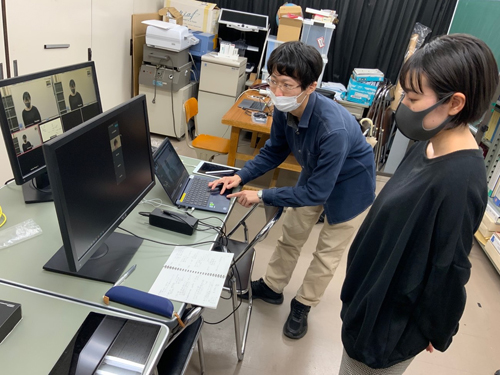 What kind of responses did you get from the participating students?
There were comments such as, "Online allows me to work in a relaxed manner," and I firmly realized that online is not a substitute for face-to-face interaction and that there are many children who are more comfortable learning online. It was a new discovery for me to see the positive impact of learning in an environment (home) that children are most familiar with.
Did the "Oyako Panda Juku" bring about any changes in the students? What are the reasons for continuing the activities during the COVID-19 pandemic?
It was a great achievement for us students to realize that there are many advantages to online learning, not only for the users but also for the teachers. For example, one of us, a visually impaired student, said that teaching online was easier than face-to-face because he could use the equipment that suited him while teaching. Also, considering that there are skills that students can acquire through online educational consultation (such as learning how to use IT equipment and how to explain things in an easy-to-understand way), I feel that it is very important to conduct this kind of activity as such experience will help students develop.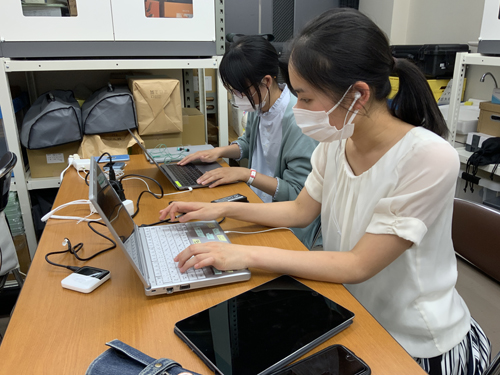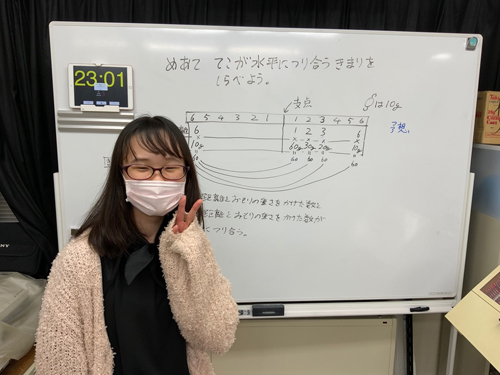 Please tell us about your future activities
We would like to continue to provide online learning support even after when the coronavirus goes away, and we can carry out the same kind of activities as before. Then we would like to provide group learning support using both face-to-face and online methods so that we can conduct activities that are not confined to the place of study. We hope to continue to listen to the needs of our users and improve our activities.
On a personal note, I have come to think that I would like to use the expertise I have gained through these activities to start an online learning support company in the future. I would like to provide an alternative for students who have difficulty learning at conventional cram schools or private tutors.
Interview: July 2021, Public Relations Group (M)
[Inquiries]
Hiroshima University, Public Relations Group
E-mail: koho*office.hiroshima-u.ac.jp (Please replace * with @)