On May 26th, Deputy Chief of Mission Jason P. Hyland and his party visited Hiroshima University Kasumi campus to have a talk with President Mitsuo Ochi. The party included Mr. Allen S. Greenberg, United States Consul General in Osaka-Kobe.
Mr. Hyland, Deputy Chief of Mission, intensely asked questions about Hiroshima University's key research areas. He also asked about the employment situation of the graduates, and seemed surprised with our high employment rate.

When asked about President Obama's visit to Hiroshima, President Ochi said, "It will be the first step towards world peace."
After the discussion, President Ochi showed Deputy Chief Hyland around the Center of KANSEI Innovation Nurturing Mental Wealth, which was selected as one of the core bases for the Center of Innovation (COI) program by the Ministry of Education, Culture, Sports, Science and Technology (MEXT). Deputy Chief Hyland seemed impressed with the center's research initiatives.
*Center of KANSEI Innovation in Mental Welfare (The Center for Innovation Program)

Our research aims to create a happy society that realizes the harmony of "things" and "emotions" by generating and nurturing new values of emotional and material affluence. In order to reach our goal, we are studying the visualization of KANSEI (emotions, perceptions, etc.) and we are developing Brain-Emotion Interfaces (BEIs) that connect people to people, and people to things with KANSEI (emotions) by utilizing neuroscience, optical technology, and information and communication technology. Our research on emotional information is creating new values in various fields of life such as food, clothing, lifestyle, mobility, education, and medical care.
From the Embassy of the United States, Ms. Caroline Kennedy visited Hiroshima University on last April.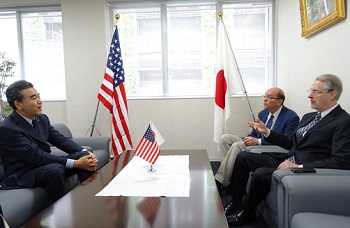 (from left to right) President Ochi, Consul General Greenberg, Deputy Chief Hyland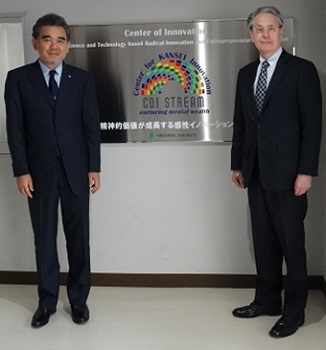 At the Center of KANSEI Innovation


Inquiries about this article:

Hiroshima University Public Relations Group

E-mail: koho*office.hiroshima-u.ac.jp (Please replace * with @)