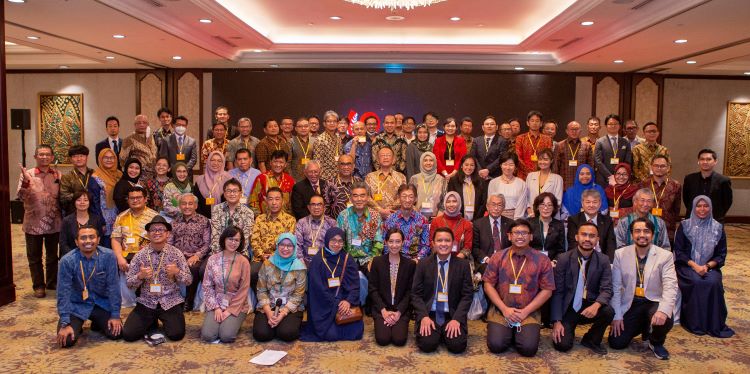 Hiroshima University (HU) alumni in Indonesia gathered in its capital of Jakarta on May 28, 2022, to mark the inauguration of the Hiroshima University Alumni Association (HUAA) Indonesia Chapter which was established on March 22, 2022.
The event was held at the Shangri-La Hotel, with approximately 100 guests in total, composed of 50 Alumni and people involved in industry-academia-government collaboration between Japan and Indonesia, and staff from HU in attendance. Around 50 alumni living far from the venue also participated online.
The commemorative event, sponsored by the HUAA Indonesia Chapter and co-sponsored by HU, was opened with greetings from HU President Ochi, the Co-President of the chapter. President Ochi said, "This chapter is very different from previous alumni associations. The purpose is to actively collaborate with industry, academia, and government to build a platform for creating new value in various fields. Let's work together as 'Team HIRODAI.'"
Click here to view highlights
Opening remarks were then given by Dr. Laksana Tri Handoko, Co-President of the HUAA Indonesia Chapter and director of the Indonesian National Research and Innovation Agency (BRIN). Speeches were also made by Mr. Ginandjar Kartasasmita, a special adviser to the university; Mr. Masami Tamura, the Japanese ambassador to Indonesia, Minister of the Embassy of Japan in Indonesia; and Mr. Keigo Shiomi, General Manager and CEO of Sumitomo Corporation Asia & Oceania Group. In addition, a message from Former Prime Minister Yasuo Fukuda, President of the Japan-Indonesia Association, was sent and read in Japanese and Indonesian by the master of the ceremony.
At break time, traditional Indonesian dances were performed and congratulatory video messages from Indonesian students studying at Hiroshima University were played. After that, Prof. Shinji Kaneko, Executive Vice President for Global Initiatives, and Dr. Siti Maimunah, Director of Road Transportation Safety Polytechnic, Ministry of Transportation, Republic of Indonesia, who is an alumna of Hiroshima University and the Chair of the HUAA Indonesia Chapter Steering Committee, gave a presentation on the overview of the chapter and the Hiroshima University Overseas Co-creation Platform Plan. It left participants with high expectations for the challenge of implementing a new alumni association model.
Besides this, the event was very lively thanks to the incorporation of games, such as a tournament in which competitors could win Hiroshima University goods. Even after the closing remarks by Prof. A. Husni Tanra, an HU alumnus and Emeritus Professor of Hasanuddin University, many attendees of the event stayed behind to continue conversing and networking. The event was a great success, and by the end of the day there were smiles all around.
In the future, the Indonesia Chapter will start activities as the first model of "the Hiroshima University Overseas Co-Creation Platform Plan" aiming to solve social issues and create new value for the realization of Society 5.0 and the SDGs in collaboration with HU's stakeholders, which include companies and related organizations.
A scene from the event (From 01:15:00)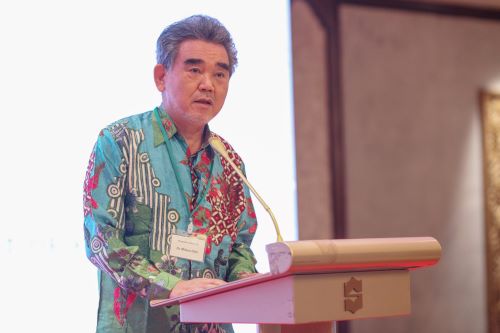 President Mitsuo Ochi giving his speech as the Co-President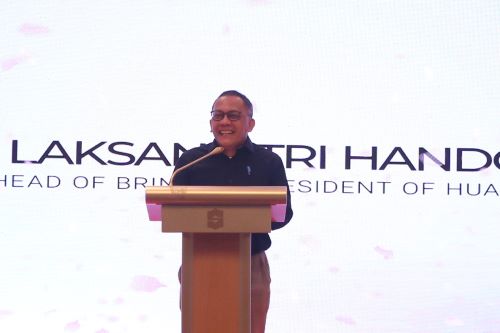 Dr. Laksana Tri Handoko, also the Co-President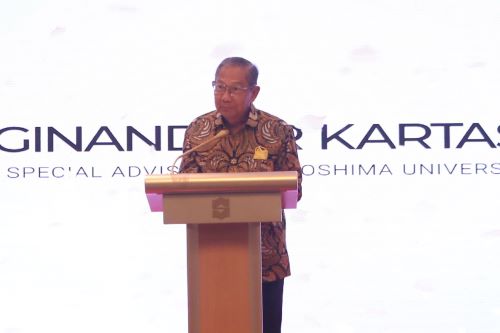 A guest speech by Mr. Ginandjar Kartasasmita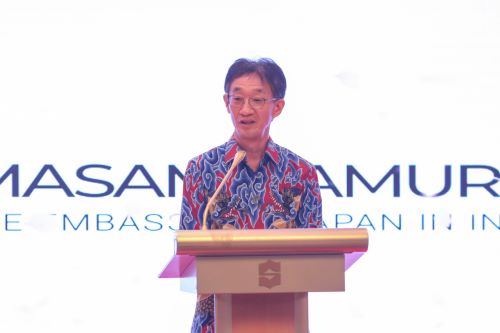 A guest speech by Mr. Ginandjar Kartasasmita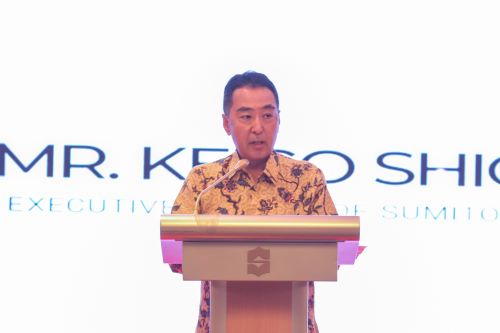 Keigo Shiomi Keigo Shiomi,Managing Executive Officer
General Manager for Asia & Oceania;
CEO of Sumitomo Corporation Asia & Oceania Group;
President and CEO, Sumitomo Corporation Asia & Oceania Pte. Ltd.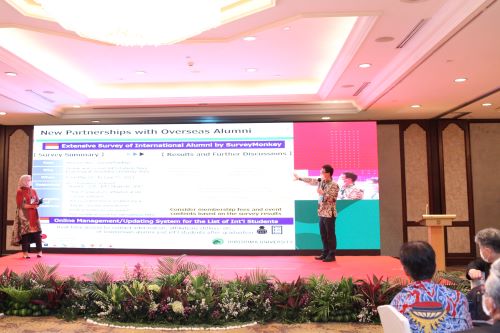 Prof. Kaneko & Dr. Maimunah giving a presentation on the Chapter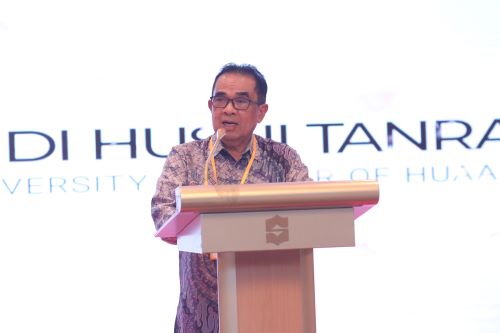 Prof. A. Husni Tanra giving his closing remarks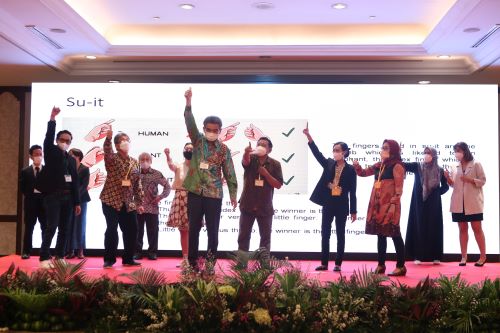 Excited participants playing a game to win Hiroshima University goods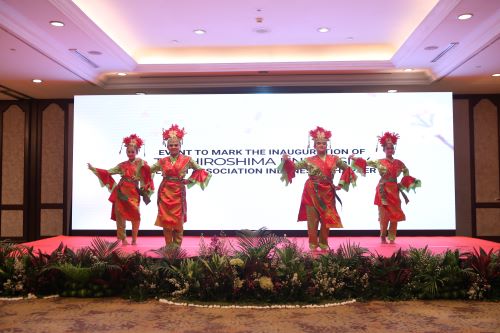 Traditional Indonesian dance performance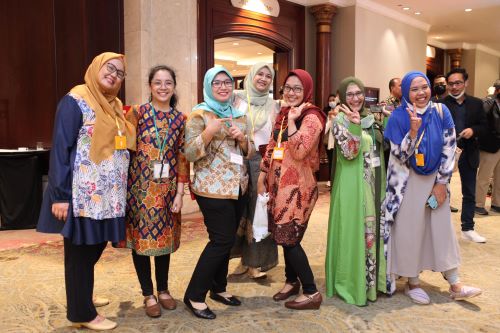 Alumni enjoying the reunion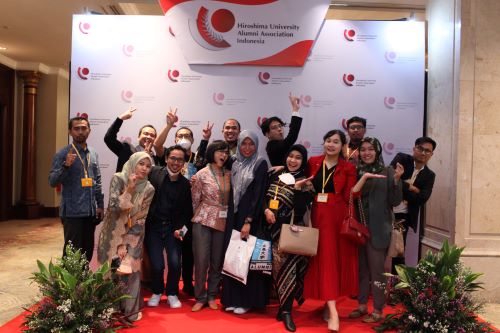 Photo booth with the Chapter logo, a big hit among guests 
【For inquiries】
Global Strategy Group, International Office, Hiroshima University
E-mail: kokusai-group*office.hiroshima-u.ac.jp(Please replace*with @)