Hiroshima University (HU) marked the 77th anniversary of the atomic bombing Saturday, August 6, with its annual memorial service to remember the victims.
The ceremony is held yearly in front of HU's "Memorial Monument for the Victims of the Atomic Bomb" on the Higashi Senda Campus. This year's memorial service was again conducted on a reduced scale to prevent new coronavirus infections and heat stroke. About 40 people, including bereaved families and university staff, attended the event.
HU President Mitsuo Ochi and a representative of the bereaved families dedicated a register listing the names of 2,060 A-bomb victims to the cenotaph, followed by a minute of silence.
In his memorial service address, President Ochi reiterated his pledge that 100 years from now, HU would continue to carry out its mission as a "University of Peace."
Flowers and water were offered to the cenotaph and, later, to the adjacent "Monument of the Buried Remains of the A-bomb Victims" to comfort the souls of the victims.
University officials and Malaysian students studying at HU also held a memorial service in front of the grave of Mr. Nik Yusof at Kozenji Temple in Hiroshima City's Saiki Ward. Yusof, was a Malaysian exchange student then studying at Hiroshima University of Literature and Science, one of the forerunners of the present HU, when he fell victim to the atomic bombing.
The Hiroshima University Junior and Senior High Schools, attached schools to the university, also held a memorial service for their predecessor institution, the Hiroshima Higher Normal School. A similar ceremony was held by the HU-attached Fukuyama Junior and Senior High Schools at Koujin-do in Kokutaiji-machi, Naka-ku, Hiroshima City for their predecessor school, the Yamanaka High School for Girls, which was then part of the Hiroshima Women's Higher Normal School.
Click here for the full text of President Mitsuo Ochi's memorial service address (Japanese) (English)
*Masks may be removed at the ceremony to prevent heat stroke.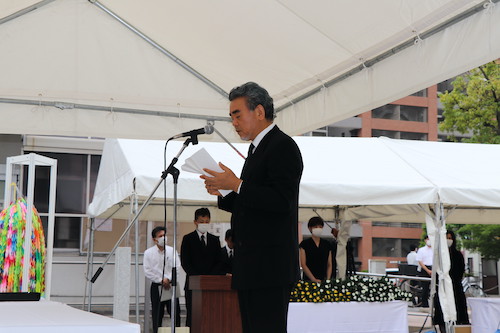 President Ochi delivering a memorial service address for the 2,060 atomic bomb victims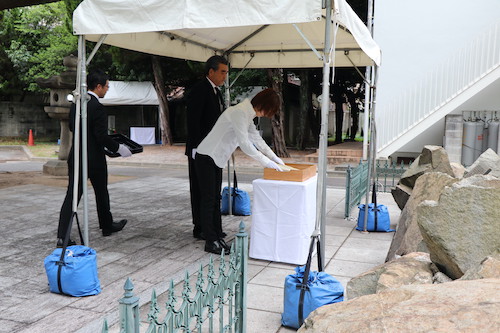 The representative of bereaved families and President Ochi dedicating the list of atomic bomb victims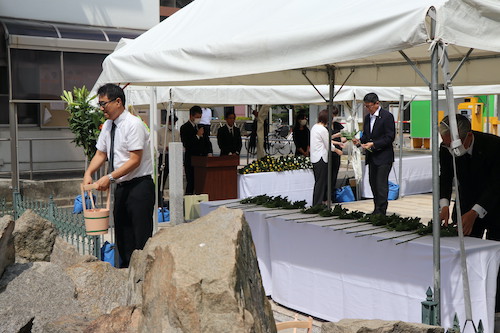 Bereaved families and attendees offering flowers and water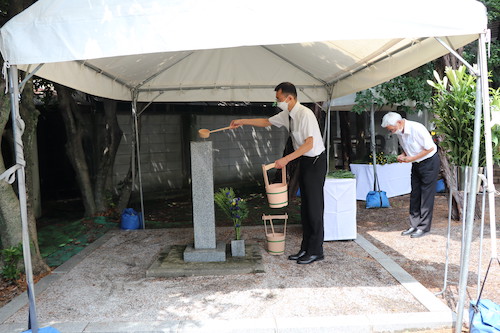 Offering flowers and water to the Monument of the Buried Remains of the A-bomb Victims
[Inquiries]
General Affairs Group, Hiroshima University
TEL:082-424-6032
E-mail: soumu*office.hiroshima-u.ac.jp (Please change * with @)