The 2022 Autumn Term Entrance Ceremony will be held as follows.
Date and Time:
October 1st, 2022 (Sat.) from 11:00
Venue:
Hiroshima University Satake Memorial Hall (Higashi-Hiroshima campus)
(1-2-2 Kagamiyama, Higashi-Hiroshima)
Map of Higashi-Hiroshima campus
*Please park at the parking lot of the Higashi-Hiroshima campus if you are coming by car.
*The closest bus stop is "Hirodai-Kitaguchi."
(The bus stop "Hirodai-Chuoguchi" is under construction, buses will not stop there)
Attendees:
Only freshmen/new students and their families
University representatives:
University Officers, Senior Executive Advisor to the President, Senior Vice President, Vice President(Student Support)
Event Schedule:
Declaration of Admission to the Graduate School of Hiroshima University
The president's speech
Playing Hiroshima University Song (CD)
To freshmen/new students and their families
Signboards/banners for commemorative photos will be placed outside the Satake Memorial Hall.
If you have a fever or any other cold symptoms, please refrain from coming to the campus.
Once arrived at the campus, you are kindly advised to take all the measures to prevent the potential spread of the new coronavirus infection (e.g. always wearing a mask).
To HU students
On the day of the ceremony, we request you to kindly refrain from coming to the campus unless it is urgent/essential.
Photos from the 2021 Autumn Term Entrance Ceremony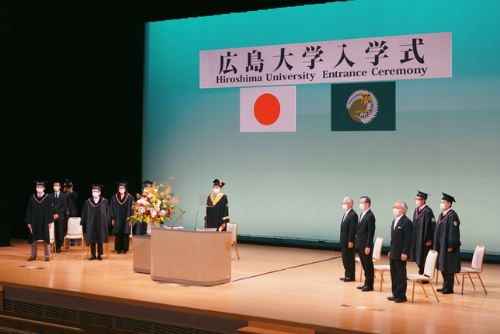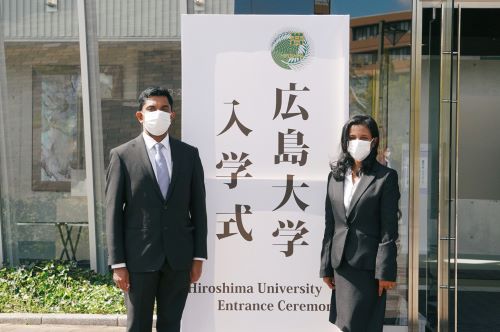 [Inquiries]
General Affairs Group, Hiroshima University
E-mail: soumu*office.hiroshima-u.ac.jp (Please replace * with @)