Date : November. 2nd, 2022
Place: Engineering 112 Lecture Room, Higashi-Hiroshima Campus, Hiroshima University
Program
Chair & Commentary: Yukihiko MATSUMURA
Professor, Graduate School of Advanced Science and Engineering, Hiroshima University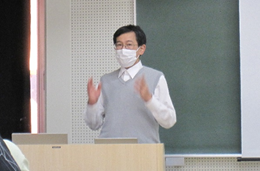 Lecture: Mohammed Ahmed Mohammed ALI
D2, Graduate School of Advanced Science and Engineering, Hiroshima University
"Reaction rate determination for the supercritical water gasification of glucose using Ru/CNT."
Carbon nanotube (CNT) is a possible catalyst support for a biomass gasification. 0.5 wt% Ruthenium (Ru)-based catalyst with CNT support was prepared. the effect of the catalyst in gasifying the glucose with different conditions under supercritical water (SCW) is important to be understood in order to obtain the reaction rate and design a model. For such a reaction, a packed bed reactor was used at 25 MPa and 600 °C with a catalyst loading of 0.15 g and space velocity varies from 40 h-1 to 160 h-1. The effect of the space velocity change with carbon gasification efficiency (CGE) was clearly shown and the experimental results were in a good agreement with the theoretical results. As a result, the reaction rate was determined to be 361.8 h-1.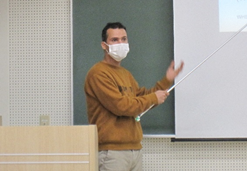 Lecture: Yuito SUGANUMA
M2, Graduate School of Advanced Science and Engineering, Hiroshima University
"Reaction pathways for nitrogen content in chicken manure predicted from uric acid conversion behaviour."
It is important to remove nitrogen from livestock excreta before methane fermentation. Therefore, in order to recover the nitrogen content from chicken manure as ammonia, a hydrothermal treatment experiment of chicken manure was conducted and about 80% of the nitrogen content in chicken manure was successfully recovered as ammonium ions. However, this experiment did not accurately capture the reaction pathway of the nitrogen content in chicken manure. Therefore, the reaction pathway of the nitrogen content in chicken manure was predicted by checking the conversion behaviour of uric acid, which is the most abundant nitrogen source in chicken manure.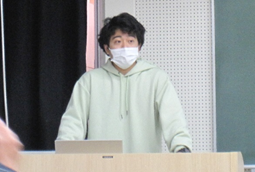 Lecture:Tsunehiro AKI
Professor, Graduate School of Integrated Sciences for Life, Hiroshima University
"Carbon recycling and valuable lipids production."
Abstract: To achieve carbon recycling through biotechnology towards realizing a sustainable society, we have proposed a bio-refinery technology called "Gas-to-Lipids bioprocess" that converts CO2 separated and recovered from thermal power plants into high-value-added lipids and chemical raw materials and is currently being implemented as a NEDO project at the research base in Osakikamijima, Hiroshima. Its overview will be introduced in this seminar.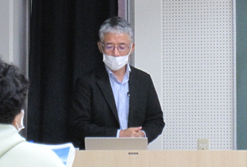 Inquiries
HOSTY Association (Graduate School of Advanced Science and Engineering) 
Email: bprc*hiroshima-u.ac.jp (Please replace*with @)