Hiroshima University held a ceremony to commemorate the completion of the HU Ryoun Lecture Building.
Hiroshima University held a ceremony to commemorate the completion of the HU Ryoun Lecture Building on November 30, 2022.
Mayor Kazumi Matsui of Hiroshima City, Chairman Misao Higashida of the General Incorporated Foundation Ryokufukai, and other related parties attended the ceremony.
A signboard unveiling ceremony and a ribbon-cutting ceremony took place in front of the entrance of the new building before the event.
At the ceremony, HU President Mitsuo Ochi expressed his gratitude to the guests and talked about the purpose of the new building.
"The name of the building reflects our wish that young people, who will lead the future, will progress, spread their wings and break through the clouds," said President Ochi.
"Consistent education and training of medical personnel will be conducted at the Ryoun Lecture Building, promoting advancement and stimulation of medical care in anticipation of the era of 100-year life expectancy, and aim to create a Hiroshima where everyone can live with peace of mind," he added.
Following the address by President Ochi, Hiroshima City Mayor Matsui — invited as a guest of honor — gave a congratulatory speech.
"I have great expectations that the Hiroshima University Ryoun Lecture Building will become a valuable base for the development of regional medical care. We hope that Hiroshima University and Hiroshima City will continue to work together for the future development of this city," said Mayor Matsui.
At the end of the ceremony, Makoto Miyatani, Executive Vice President for Education at HU, expressed his gratitude to all those involved.
"We will continue to devise and implement various initiatives to ensure and improve the quality of education while responding to the evolving trends and the demands of society," he said.
After the ceremony, President Ochi and Mayor Matsui gave a tour of the 5th-floor lecture hall, 2nd-floor lecture rooms, and 1st-floor student spaces.
The five-story, steel-framed lecture building with a total floor space of approximately 3,850 square meters will be used not only for educating medical students (mainly from the School of Medicine, School of Dentistry, and School of Pharmaceutical Sciences) and School of Law students based at the Kasumi Campus, but also for academic conferences, workshops, and other events.
Signboard unveiling ceremony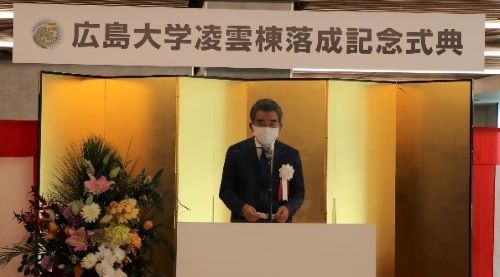 President Ochi's Ceremonial Address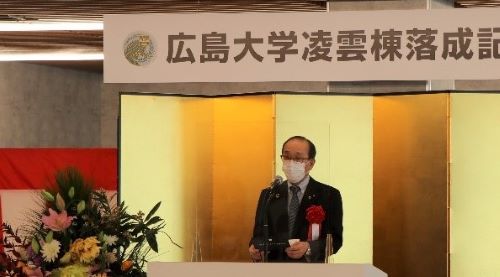 Congratulatory address by Mayor Matsui of Hiroshima City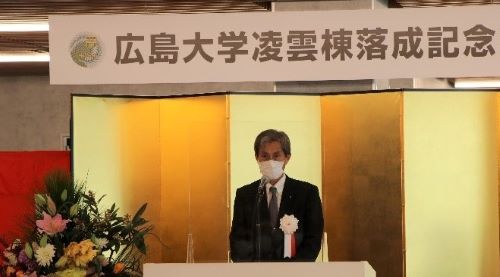 Congratulatory speech by Executive Vice President Miyatani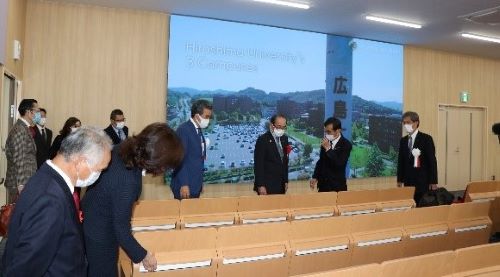 [Inquiries]
Hiroshima University Education Support Group
E-mail:kyoiku-gl*office.hiroshima-u.ac.jp (Please replace * with @)