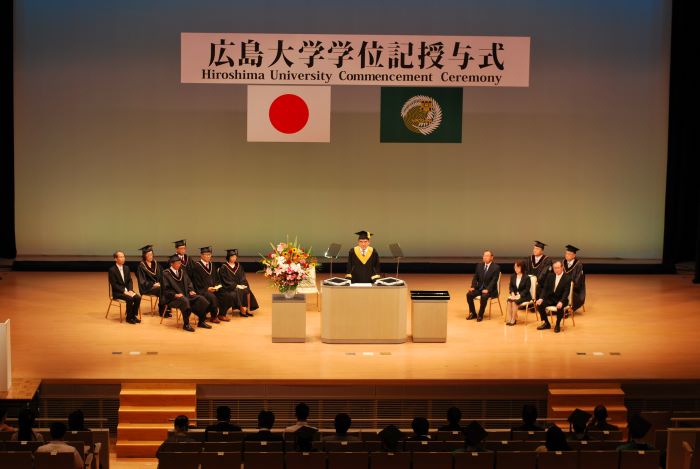 Hiroshima University (HU) held its 2023 Autumn Term Commencement Ceremony at the Satake Memorial Hall, Higashi-Hiroshima campus, on September 20, 2023. As in the previous year, family members and guardians were welcomed to attend.
The ceremony marked the graduation of 318 students, including 34 undergraduates and 284 graduate students, with 206 being international students.
Representing the graduating class, three student representatives received their diplomas from HU President Mitsuo Ochi. These were Hayato Nogata from the School of Science, Taufik Hidayah from the Graduate School of Humanities and Social Sciences, and Eka Lutfi Septiani from the Graduate School of Advanced Science and Engineering.
Following the ceremony, the president conferred diplomas to each doctoral degree recipient.
In his ceremonial address, President Ochi recounted the significant role played by HU during the G7 summit in May.
"During the G7 summit, Hiroshima University hosted various events, whilst also supporting and cooperating with other summit-related events. In addition, many Hiroshima University students volunteered to provide hospitality and interpretation services. I believe we were able to demonstrate to the world at large the 'spirit of peace' that runs through Hiroshima University," said President Ochi.
As 2024 marks HU's 75th anniversary, President Ochi shared his hopes for the new graduating class.
"The year 2024 is a milestone for Hiroshima University, as it will be the 75th anniversary since its founding, and the 150th anniversary if we include the founding of its oldest predecessor school, the Hakushima School. The theme for the 75th anniversary is 'Row out into the sea of chaos; go beyond the horizon of creativity.' I hope that you take pride and confidence in what you have learned at Hiroshima University, bravely venturing into the 'sea of chaos' and reaching beyond 'the realm of creation.'"
Following Keiko Yamamoto's farewell address as the remaining students' representative, Zixing Lyu, the new graduates' representative from the Graduate School of Humanities and Social Sciences, delivered a speech sharing her experiences as an international student. Lyu came from China to pursue her studies at HU.
"Through the peace studies course at Hiroshima University, I have come to truly understand the horrors of the atomic bomb and the profound importance of peace. Today, as we graduate and move forward into our respective journeys, we will continue to keep peace at the forefront of our minds. We aspire to make a positive impact on the world, drawing upon the lessons we've learned during our time at the university," said Lyu.
Click here for the full text of President Mitsuo Ochi's Ceremonial Speech (English) (Japanese)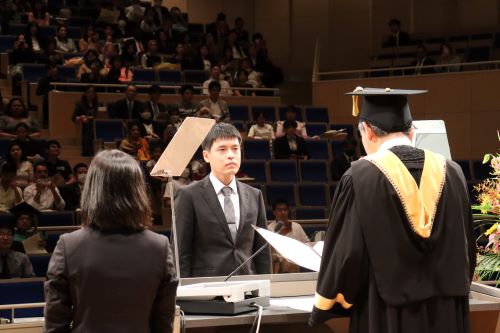 Hayato Nogata, one of the student representatives, receiving his diploma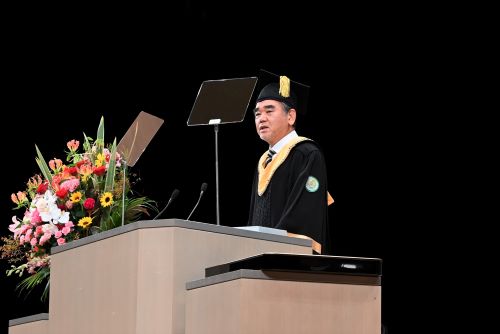 President's Ceremonial Speech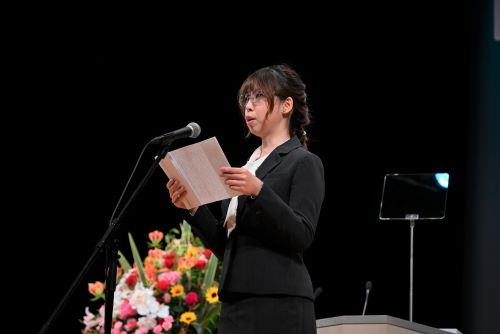 Farewell speech by the current students' representative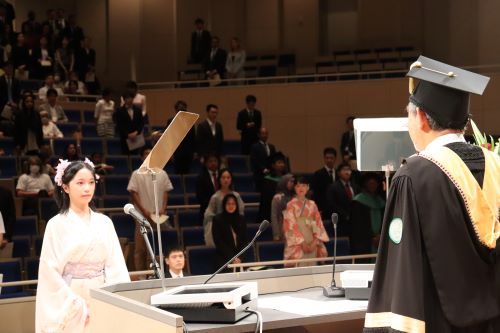 Acknowledgments by the new graduates' representative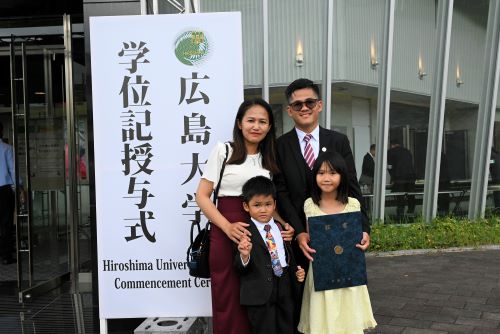 Photos with family after the ceremony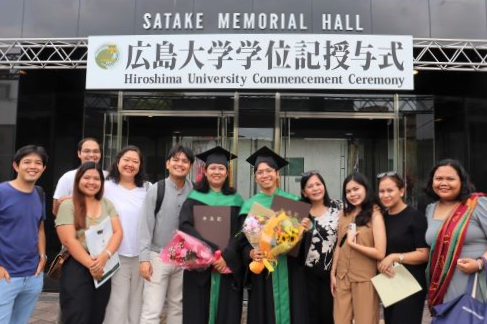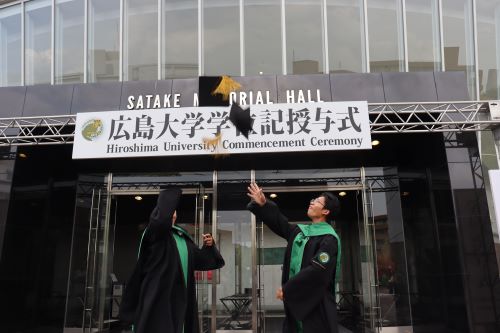 2023 Autumn Term Commencement Ceremony Highlights
Relive the highlights of the event from our Facebook page!
*Photos of the Commencement Ceremony will be released on HU's website and official social media.
[Inquiries]
Hiroshima University Public Relations Office
E-mail: koho * office.hiroshima-u.ac.jp (Please replace * with @)